Hard to Hold (The U.S. Marshals) by Karen Foley:  Madeline Howe loves her younger brother Jamie with all her heart. He is the only family she has left in this world, so when he is kidnapped and threatened with death unless his gambling debt is paid, Maddie hops on a bus to Reno to save him. She doesn't have the $50,000 ransom needed to set him free, but she is working on it. Her mind is a mad mess of worry, as she contemplates robbing a diner in order to get some cash. Instead, she uses a toy gun to take a hostage, who just happens to be Colton Black, a rugged, U.S. Deputy Marshall.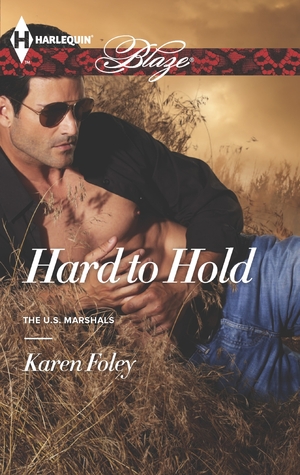 Colton was onto Madeline the minute she walked into the diner. He knew something was up, but had no idea how truly desperate she was. After spending some time with her, under toy gunpoint, he gets her to confide in him a little bit, and that is when he realizes that he has to help her. There is something about Maddie that calls to Colton. In addition, he believes that the organization threatening and holding her brother is part of a huge crime syndicate, that the U.S. government has been trying to infiltrate for over a year.
Madeline is a spunky little CPA. In spite of growing up without a mother, a father that committed suicide and an alcoholic grandfather, she turned out okay. Unfortunately, her brother inherited the addiction to gambling gene, associated with the Howe men, and on more than one occasion has gotten himself into trouble. Madeline basically raised Jamie, and did whatever was necessary to keep some food on the table while they were growing up. Although Jamie is 20, she continues to feel an obligation to him.
Even with all of Madeline's baggage, Colton is falling for her and she is beginning to feel the same way. Madeline and Colton have instant chemistry and once they learn to trust each other, Jamie can be saved and they can begin to explore a future together.
Hard to Hold is a well-written book and the story flows effortlessly from beginning to end. The characters are well described and their feelings are palpable. The sex scenes between Madeline and Colton are steamy and Colton's alpha male persona is hot.
However, I found the plot to be utterly ridiculous, which made it difficult for me to get through the story.
Book Info:

Publication: January 21st 2014 by Harlequin Blaze (Book 786) | The U.S. Marshals
She was asking for trouble.
She got it!
Colton Black is amazed when the girl with whiskey-colored eyes levels a gun at him. First, he knows the gun is a child's toy. And second? She hasn't a clue that she's just taken a U.S. deputy marshal hostage!
Maddie Howe has seventy-two hours to scrape together fifty thousand dollars—or her brother will die. And maybe taking the incredibly hot lawman hostage wasn't exactly her best moment. She needs to ditch Colton, find the rest of the money and get her brother back. But Colton isn't about to let her get away. And maybe it's the weirdest case of Stockholm syndrome ever, but the sexual tension between them is fierce. And if they're not careful, it could get someone hurt….