In Hard to Hold on To (Hard Ink #2.5) by Laura Kaye, Fresh from a battle against the drug ring that had ties to the event that ended his Special Forces career, Easy Cantrell's only concern is for Jenna Dean. Getting her away from her kidnappers alive was the first step. Now Easy and his former teammates hope to keep her safe and get her on the mend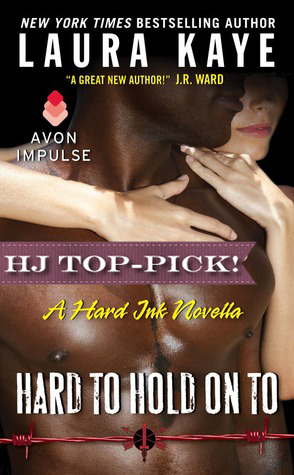 from her traumatic experience. But the close proximity to Jenna begins to mess with Easy's head. He's been battling his own demons since the attack that ended his time in the military, and caring for the beautiful redhead finally gives him a purpose to focus on. Despite their differences, Easy hopes his budding relationship with Jenna will be exactly what they both need to begin healing.
'That she'd found solace in him–a man who had no solace for himself–was the sweetest fucking thing he could ever remember experiencing. And it made him feel strong in a way he hadn't in what seemed like forever.'
Terrifying flashes of events from the last couple of days are all that Jenna can picture until she sees Easy's concerned brown eyes looking back at her. From that second on, she knows she will be safe as long as he is near. Not only did he and his crew save both her and her sister Sara from the local gang's abuse, but Jenna was already beginning to notice an attraction to Easy before her kidnapping. She may be confused emotionally and very inexperienced when it comes to romance, but she cannot avoid her feelings as they grow stronger with every moment they share. When it becomes her chance to be there for Easy during a difficult time, Jenna knows she will do everything she can to show him she believes in him as a man, a soldier, and a friend.
"When I look at you, I don't see a bunch of differences, Easy."
"What do you see then?"
…"A really hot guy I'd like to get to know more."
A smug little smile slipped onto his face, and she might've rolled her eyes if it weren't so damn sexy. "Really hot, huh?"
"Well, kinda hot, anyway."
"Nuh-uh," he said, tugging her hand to his chest. "Can't take it back now."
Hard to Hold on To is Easy and Jenna's tumultuous story. And what a powerful, intense short story it is. Hang on ladies. This one will not only bring tears to your eyes, but it will make you sigh oh-so happily as well.
'When you walked through fire and somehow came out the other side in one piece, you gave thanks and held tight to the things that mattered.'
First of all, I have to say that I am a big fan of this series. Laura Kaye has given us a group of alpha males who are honorable, funny, and sexy-as-hell, while their love interests are every bit as strong and charismatic as well. Even though readers can enjoy these as standalone titles, I think reading them in order will help get a full sense of the complicated issues these former Green Berets are facing. Easy and Jenna's situation in particular showcases the gritty side of surviving traumatic events. For me, having so many family members in the military, this was a very powerful story to read and it honestly had me blinking back tears a few times with the level of pain and emotion both characters went through.
While there was undeniably a heaviness to this installment, it wasn't overwhelming, I didn't think. Ms. Kaye introduced enough lighthearted moments to offset the dark. Plus, the adoration Jenna and Easy felt for one another was anything but negative. Reading about it, I felt like the passion that grew between them was like a lifeline, helping them to heal after the horrific events they had endured. And I liked that neither of them jumped right in and declared their love for each other. They were entering into a relationship created out of a unique bond. That bond was so strong that I personally couldn't help but get swept away by it. Which brings me to my only gripe…I didn't want this book to end! lol But there will be more of Easy and Jenna with future books, I'm sure.
This novella may not have had the high octane action of the previous two full length novels in the Hard Ink series, but it had me enthralled with the depth of emotions and the growing connection between two truly lovely people. Highly recommended.
Book Info:

Published August 19th 2014 by Avon Impulse | (Hard Ink #2.5)
Print Length: 200 pages
Edward "Easy" Cantrell knows better than most the pain of not being able to save those he loves–which is why he is not going to let Jenna Dean out of his sight. He may have just met her, but Jenna's the first person to make him feel alive since that devastating day in the desert more than a year ago.
Jenna has never met anyone like Easy. She can't describe how he makes her feel–and not just because he saved her life. No, the stirrings inside her reach far beyond gratitude.
As the pair are thrust together while chaos reigns around them, they both know one thing: the things in life most worth having are the hardest to hold on to.