Just a Little More (Secrets To Hide #3) by Ella Sheridan: This is the third book from her series Secrets to Hide. In this novella, Ms. Sheridan takes a horrific happening and evolves it into a remarkable and powerful story.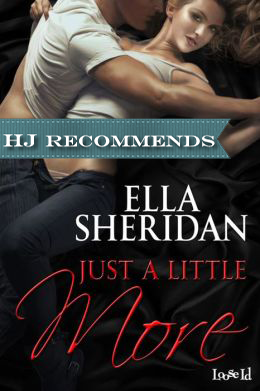 Angel and Brad have been best friends since the fifth grade. Brad had stopped the school bully from bothering her and at that moment, their friendship was sealed for life. Overtime, they supported each other through thick and thin, became each other's go to person for advice, and discovered that they were in love with each other. They have never admitted their true feelings, even through over the years some of their actions were obvious. Now Angel and Brad are living together in an apartment in Atlanta, after successfully graduating from individual colleges. Brad is a bartender, working his way up into management and Angel just got an interview with the local division of Child Protective Services. Both Angel and Brad are good, kind, and caring people.
They share their first hot and romantic kiss just a few minutes before Angel walks out of the bar and is almost raped. Naturally, their lives have changed forever. Luckily, Brad has some really good friends who help him help Angel. Six weeks after the incident, she is feeling better and wants Brad in her bed. Their lovemaking is hot and sensual, yet bittersweet because Angel is not out of the woods yet.
This was one of those novellas that I could not put down. The combination of plot, angst and eroticism was practically perfect. The characters were so well-defined, it was easy to feel their love, anger, and inhumanity. I truly loved Brad, a real hero in every sense of the word. He saved Angel on more than one occasion, without caring about his own life in the process. I found Angel's ability to work through her horrific experiences to be truly inspiring. This book is complete with twists and turns in all the right places, and I loved how the story ended. The epilogue brought back the main characters from the first two books, and it was fun visiting with them again.
Book Info:

Published July 2nd 2014 by Loose Id | (Secrets To Hide #3)
Print Length: 96 pages
Six weeks ago Angel had it all—a brand-new master's degree, an apartment with her best friend, Brad, and the chance to take their friendship to a whole hot new level. But on the night of their first kiss, a would-be rapist ripped her bright future apart. Stuck in a never-ending cycle of fear and depression, Angel is determined to find herself again, even if it means putting herself at risk.
Brad has loved Angel since he saved her from a playground bully in the fifth grade. But just as it seemed Angel's eyes were opening to the true feelings between them, it all fell apart. When Angel disappears on the night of a freak snowstorm, Brad is determined to find her. And when he does, he won't let her hide any longer. It's time to wake her up—to a life without fear, and to a love that can heal the deepest wounds.