In Having Her (Lies We Tell #2) by Jackie Ashenden, twenty-five year old manga coffee shop owner Kara Sinclair still has her virginity, and she is finding it terribly difficult to lose it. She is so obsessed with the task, that she has resorted to picking up men in bars. Although a one night stand is not the best way to experience sex for the first time, she is at her wits end. To make her situation even worse, when the time comes to get naked, she gets scared and chickens out. She needs to find a man whom she can trust and whose appearance will send her into a tailspin.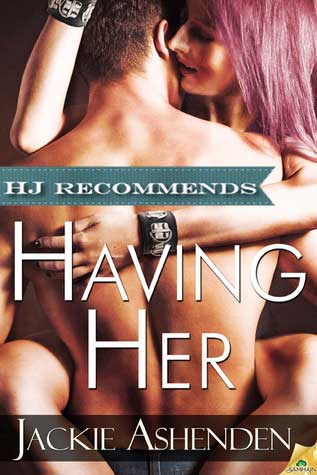 One evening, after another harrowing disappointment, Kara ends up spilling her guts to Vincent, the gorgeous older brother of her best friend Ellie. Vin is a good guy and he volunteers his services in order to keep Kara safe from harm. She wants to get it over with and because Vin is so hot and commanding, she believes she will be able to go through with it once and for all. Kara's first time ends up being incredible.
Kara's appearance is considered odd by traditional standards, but she is beautiful nonetheless. Her wardrobe is extremely funky, her hair is always streaked with an unusual color or two, and she has some very visible piercings. Together with her sarcastic and argumentative personality, complete the unloved woman who is Kara.
Vincent Fox is a successful business owner and green builder that dreams of being an architect. He had to grow up fast when his father left him, his sister and his mentally ill mother at a very young age. He comes across stern and never smiles, but that is because he has never experienced true happiness. He has always been in charge no matter what the situation, and he needs a break. To this day, he worries about his sister and has to take care of his mother when she is not institutionalized. Vincent can't catch a breather and has no time for himself or a relationship of any kind.
Kara and Vincent's initial sexual encounter leads to much, much more. They role play in order to let down their barriers and exist only to satisfy each other. Their sexual relationship is kinky as well as liberating.
Wow, this is another amazing book by Ms. Ashenden. I read the first book in the series and couldn't wait for the second one to be released. To begin with, Kara and Vin are replete with depth, flaws and goodness. I immediately connected to them as individuals and as a couple. Kara is an interesting person and her need to be commanded is heartfelt. Vin is one hot alpha and his uncertainty at times as a dom is endearing. As his demons are unveiled, my heart ached for him.
I find books with a dom that is commanding without resorting to punishment to be incredibly entralling. Vin fits into the role perfectly. Ms. Ashenden's storytelling talents continue to keep me on the edge of my seat, only wanting more when the book ends. If you are in the mood for a well-written erotic romance, read this book.
Book Info:

Publication: February 11th 2014 by Samhain | Series: Lies We Tell #2
Behind every heroine is the pain that binds her.
Lies We Tell, Book 2
Manga café owner Kara Sinclair has one burden she's been carrying around so long it's bordering on pathetic. Her virginity. Getting rid of it, though, means doing the one thing that scares her the most—letting down her guard with a relative stranger. Which makes her best friend's older brother Vin Fox's offer too tempting to refuse.
Vin barely has room in his schedule to turn around, much less worry about Kara and her crazy quest. When she insists on going ahead with a plan that he considers unsafe, though, enough is enough. If she wants to lose it, she can lose it with him. Bonus: he gets to play out his darkest fantasies, slave collar and all.
Kara thought dealing with a known entity like sexy-as-sin, controlling-as-hell Vin would smooth the way. But when it comes right down to doing the deed, not even the safety of a costume can fool her demons.
By then the game has gone too far…and the consequences could bind them together forever. Or tear them apart at the seams.
Warning: Contains a sexy, brooding "fix you" hero and a heroine who isn't afraid of anything…except "normal." More kinky cosplay losts-and-founds than you can shake a riding crop at. WTF Infirmary is booked up; please make an appointment before you read.