In Healed Under the Mistletoe (Scottish Docs in New York #2) by Amalie Berlin, Nurse Belle Sabetta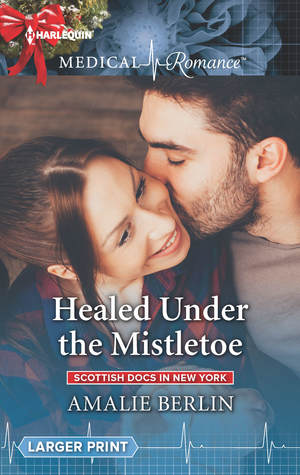 is determined to make someone's Christmas a Christmas to remember and that someone is Dr. Lyons McKeag. The man intrigues her, but with his painful past it isn't easy getting past his scrooge-like exterior. Will Belle be able to convince Lyons to give a relationship between them a chance or will Lyons end up breaking Belle's heart?
Angel looked somewhat sheepishly between them. "I actually hadn't told him yet about the gifts."
He nudged Angel lightly. "Fill me in. These are the gifts he's been calling me about?"
Angel's face scrunched up in a way that was cute, and completely chagrined. "Naughty elf," he murmured, but didn't sound upset with her. "Probably good, it's harder for me to feign ignorance when I'm only sort of ignorant."
Having loved the first book of this series, which featured Lyons's brother, I couldn't wait to see whether the hero and his brother would end up having a better relationship and resolve the issues between them and whether the hero would give Belle a chance and I've got to say that this story is entertaining and took me on a rollercoaster of emotion, as the heroine tries to bring joy to her own life as well as Lyons. Really, Belle needs Lyons just as much as he needs her, especially after the losses they've both suffered that have left them filled with guilt and still grieving.
The way this story started drew me into the story immediately, as the heroine loves her job and I can understand why she's made the decision she has to honor the promise she made to someone. However, it was from the moment the hero and heroine come face-to-face where this story really gets interesting, as these two don't get off to the best of starts. Really, the hero is rude and doesn't make her feel welcome in any way. Still, I liked that she didn't let the hero get to her. Moreover, the heroine is resilient, courageous and I liked how determined she was to help the hero heal from his past, which is something he desperately needs because he can't keep feeling so guilty over what happened. It wasn't his fault.
"Kind of like a tiny, angry animal," he ventured. Joking?
"Little angry bobcat."
"That sounds too cute."
"A tiny, furious bunny rabbit." She upped the cute factor, unable to help herself or the smile she felt on her face, especially when he laughed again.
"Fighting for his last carrot."
"Cliché." She waved a hand. "Tiny, furious bunnies feast on raw onions for fun."
While the hero, he has such an interesting and intense back story and it's understandable why he's so closed off. How could he possibly trust anyone after what happened? How could he ever forgive himself, considering he sees what happened in his past as him failing as a doctor? Still, I liked how the hero opens up to the heroine and stops being so cynical. I also liked that Lyon's brother, Wolfe, doesn't give up on him either, even though Lyons gives him every reason to. Yet, what I liked most of all about the hero was how courageous he is when it comes to facing his past because he knows he needs to face it to ever be truly happy.
Overall, Ms. Berlin has delivered a really good read in this book where the chemistry between this couple is tangible from the moment they meet and just keeps getting stronger; the romance shows how good these two are together; and the ending had me loving the hero's determination to win the heroine's heart, especially after what happens between them to cause their relationship to go awry. How could he still be so distrustful of the heroine, considering all she's done for him? Yet, in saying that, what he does goes a long way to showing the heroine that she's the right one for him and he'll do anything to win her back, no matter how awkward what he does is for him. However, it was the epilogue that wrapped this story up nicely, as Belle has bought so much happiness into Lyons's life. I would recommend Healed Under the Mistletoe by Amalie Berlin, if you enjoy medical romances, the enemy to lovers trope or books by authors Amy Ruttan, Tina Beckett, Annie O'Neil and Alison Roberts.
Book Info:

Publication: November 20th, 2018 | Harlequin Medical | Scottish Docs in New York #2
A precious gift……to mend his scarred heart.
In this Scottish Docs in New York story, when Dr. Lyons McKeag finds an anonymous gift in his locker, he's furious! But nurse Belle Sabetta isn't fooled by his brooding, scrooge-like exterior… Her own experiences of loss means she knows that a little kindness, especially at Christmas, can go a long way. And Belle's innocence and passion could be the gift that heals Lyons's damaged heart.