Heart Trouble by Jenny Lyn: Blue, the swankiest nightclub in Jacksonville, Florida, is where emergency room doctor Erin Taylor is fulfilling a bet she lost to her best friend Tess. And Erin never reneges on a promise or bet of any kind. So, here she sits along with Tess, dressed to the nines in a outfit far more sexy than her chosen scrubs and rubber-soled shoes, looking for a guy to converse with for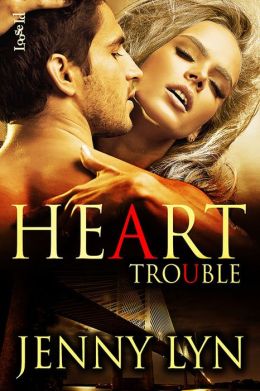 ten minutes. Erin is a smart, driven, stunner, and has dedicated her life to her profession. Thus, many of the men she meets find her intimidating, which usually puts the kibosh on dating.
Tess zeros in on one of the hottest guys at the bar, plain-clothes, on-duty police officer Sean Rembert.
The instant spark between Erin and Sean is magical and penetrating. Their flirting, teasing and banter is easy and seductive. They get lost in each other very rapidly and Sean slightly forgets that he is in the bar looking for leads that may help him catch a serial rapist. Erin fits the profile of the rapist's victims and after her purse gets stolen, Sean decrees himself to be her personal bodyguard.
Although Erin is terrified about the possibility of being the rapist's next victim, she feels safe when she is with Sean. He has basically moved in with her for the time being, while he and his team continue to search for clues in order to hunt the rapist down. Spending so much time together forces them to get to know each other. One kiss leads to another kiss, which quickly evolves into mind-blowing sex. Every minute of every day deepens their feelings and attraction to each other. After only a few days, Sean feels comfortable enough to bring Erin to his childhood home for a previously planned celebration. For the first time since her parents died in a car accident when she was thirteen, Erin feels like part of a family.
With the exception of the real reason why they are together, Erin and Sean are blissfully happy. That is until Sean's father has a heart-attack and Sean realizes that Erin knew all along about his father's heart condition. He says some extremely hurtful words before leaving her in the care of his team and going to the hospital. Now Sean's team is in charge of Erin's safety. Both Erin and Sam are heartbroken without each other.
Providing any more information about the plot would ruin both the anticipation and outcome of this suspenseful romance. Although the relationship between the two main characters is a little far-fetched, and the ending is somewhat predictable, I was completely engaged until the very last sentence. The sex scenes are hot and erotic. The characters are well defined and truly likeable.
I really enjoyed the author's rhythm and effortless way of storytelling. If you are seeking a a steamy, suspenseful romance, look no further than Heart Trouble.
Book Info:

Published August 13th 2013 by Loose Id
Dr. Erin Taylor would rather be strapped to a gurney in her ER than prowling Jacksonville's newest nightclub in a tight dress and high heels. Forced to do that very thing after losing a bet to a friend, she's surprised by the sparks flying between her and sexy police detective Sean Rembert. Sean is supposed to be scoping the bar for leads that might help him catch a serial killer, not letting his neglected libido lead him astray. But the minute he sees the gorgeous blonde headed his direction, all thoughts of work go out the window. Until he discovers Erin is a possible target.
Their connection is red-hot and undeniable, but Erin is in serious danger and Sean will do anything in his power to protect her. Passion explodes between them, then a secret destroys it. Can they overcome the hurt and resentment to find their way back to each other before the killer closes in?
Add to: Goodreads.