Heartbreaker by Joanne Rock is the latest story in her Dynasties: Mesa Falls series, about a group of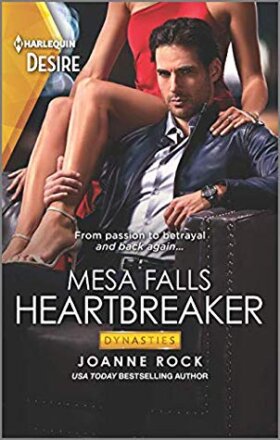 friends who harbor a secret that bonds them together even as that secret is set to be exposed.
Gage Striker, an investment banker and one of the owners of the Mesa Falls resort was a student of the late Alonzo Salazar, as were the other owners of the resort. A book Alonzo wrote has attracted a lot of attention as it profiled a real life family, and the fallout from that is still ongoing. But there is also a secret that bonds the owners, one that Alonzo knew.
When tabloid reporter Elena Rollins shows up to investigate the story of what happened to the money Alonzo made from the book sales, it's a shock to Gage to see her again. They had parted ways unhappily several years earlier from what had been a loving relationship when his rich father tried to buy her off. Elena had refused the money but Gage had believed she'd accepted it, sparking a rift they never recovered from. Seeing each other after all this time brings back old feelings, and wariness on both their parts. In her search for the truth, can Elena and Gage rekindle what brought them together in the first place?
I'm enjoying this interconnected series by the author, with the setting of Mesa Falls as the backdrop to some intriguing worldbuilding (who was Alonzo? Why did he write his infamous book? What did he do with the money?) and an interesting group of friends still struggling with the aftermath of the death of one of their own as a teenager of an apparent suicide. Each story in the series continues the overall arc of the mystery and intrigue associated with the death and Alonzo's story, revealing more details as it goes along but also features a standalone romance. Here Gage and Elena get a chance to make up for lost time.
Gage and Elena both made mistakes in their first go around. Sex was never their problem, but trust was, and they are both aware that it was faults on both their sides that caused the breakup of their relationship. In close quarters after such a long time apart, they experience the same attraction they had before, but with open eyes.
Indulging in an affair with no commitment is easy, but Gage's decency and efforts to help Elena who has been struggling financially due to an ex-husband who tried to keep all her assets go a long way to showing her that he still cares. Their love scenes are passionate and intense, and cement the growing new bond that will need a little TLC to survive. Proving that they can trust each other now but not holding back their secrets is the key to their well deserved happy ending. It's another entertaining read and I look forward to continuing the series!
Book Info:

Publication: Mar 01, 2020 | Harlequin Desire | Dynasties: Mesa Falls #4
When tabloid columnist Elena Rollins shows up uninvited to a private, star-studded party at Mesa Falls, Gage Striker sees red. Though it's been six years since their abrupt breakup, the scars—and attraction—are still fresh. Certain his ex has a score to settle, the playboy banker vows to protect his ranch's scandalous secrets. Protecting his heart is a different story.