His Secret Mistress by Cathy Maxwell is the first book in the new series A Logical Man's Guide to a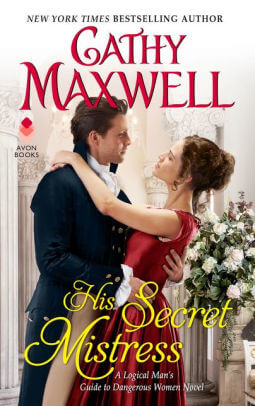 Dangerous Women. I haven't read any recent books by this author, so it was nice to start with a new series. The bachelors of Maidenshop many years ago had started a club called the Logical Men's Society that was restricted to bachelors. Once a gentleman wed, he had to give up his membership. The membership had dwindled down to three young active members, Brandon Balfour, Ned Thurlowe, and the Earl of Marsden "Mars".
Fifteen years ago, Brandon Balfour "Bran" had met Kate Addison in London and fell in love. They had shared one special night before others plotted against them. Brandon left England thinking Kate had left him for another man who was richer and titled. In India, he had made his fortune as an architecture building bridges, canals, and roads. He returned to England when he became guardian to his nephew Christopher, the Duke of Winderton. When Lucy, his sister summons Bran and tells him that Christopher has met an actress and wants to marry her, he couldn't believe it was the same Kate he had known. He was determined to save Christopher from making the same mistake he thought he had made several years ago.
Kate Addison had felt betrayed when she received a note supposedly from Bran to meet him and then been abducted by the evil Marquess of Hemling. She thought Bran had conspired with Hemling and deserted her. Once she was able to escape from Hemling, her acting career in London was over. Now, years later she has her own traveling troupe and is traveling to London to have the success she should have had years ago. When the troupe's wagon breaks down in Maidenshop she figures they can do a few shows and make more money while waiting on the wagon to be fixed. She just had to humor the duke and his admiration until their wagon was fixed. After Bran shows up at the troupe's campsite demanding she leave town, she is more determined than ever to continue with her shows. She hoped they could have a second chance, but Christopher's schemes prompt Bran's feelings of past insecurities. Can they let go of the past and have a future together?
This book was a good start for the series. It was nice reading a second chance romance between an older couple and seeing how after fifteen years they still had feelings for each other. The book was well written, but I felt it dragged a little in the middle. I think the next book will be interesting and I hope Miss Taylor will play a part in it and manage to find a man who will love and marry her without being coerced into it.
Book Info:

Publication: February 25th 2020 | Avon | A Logical Man's Guide to Dangerous Women #1
At the Logical Men's Society—an exclusive bachelor's club—brandy flows like water, bawdy stories abound, and a gentleman tempted to marry is always persuaded to reconsider…
Brandon Balfour made the mistake of trusting his heart to the exquisite, strong-willed actress, Kate Addison, with whom he shared one intimate night before fate intervened. Now a decade later, Brandon is a leading member of the Logical Men's Society—for no woman since Kate has managed to captivate him.
To Kate, the memory of that night still burns strongly, because it was followed by a stunning betrayal. A chance encounter may have brought Brandon back into her life, but that doesn't mean Kate will ever forgive him. She's vowed to make him pay—even as she realizes the promises of the young love they once shared are still etched upon her heart…
Loving her exiled him.
Trusting him ruined her.
And now, a clash of passions threatens everything each of them ever desired.