In Hearts in Motion (Boggy Creek Valley #5) by Kelly Elliott, Boston divorce lawyer Brighton Rogers never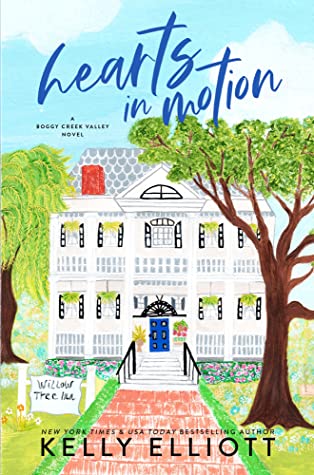 meant to keep her relationship with famous actor Luke Walters secret for so long, but it was surprisingly easy. Until it wasn't. When the press and his fellow actors start making things complicated, Bree leaves the city and heads for her hometown of Boggy Creek, New Hampshire. Even if she doesn't share why she's suddenly home for the time being, she knows her family and close-knit group of friends will be there for her. But a couple of months later, Luke reappears in Bree's life. And she's not sure what to do. He claims he still loves her and will give up his glitzy lifestyle to be with her. Is that the right thing to do, though? Or will Luke end up unhappy, leaving Bree back at square one?
'Luke would never want the life I longed for. Not when he'd worked so long to make it all happen. And what type of woman would I be to ask him to give that up? No, I would never ask anyone to give up their dreams. Especially the man I loved.'
When Brighton Rogers barreled into Luke's life at a Christmas party, of all places, he had no idea the changes it would bring. But he welcomes them all with open arms if it means he gets to have Bree by his side. Luke knows his life is complicated. If he's honest, he's been looking for something more fulfilling for some time, without even realizing it. And this brilliant woman–who is gorgeous inside and out–is everything he wants. Luke knew that when the real world interfered things would change, but he didn't expect Bree to walk away. Now he's determined to show her the kind of future they have together. And how everything that follows will only make them stronger as individuals *and* as a couple.
"I've been incredibly blessed with my career, but something was missing. I found it one night at my father's Christmas party when a set of light-brown eyes looked up at me and said, 'You look like Gene Kelly.' I was lost to her."
An unputdownable, sweeping romance that had me laughing out loud as much as it had my heart going out to this couple, Hearts in Motion was yet another stellar addition to Kelly Elliott's Boggy Creek Valley series.
"If these last few months without you have shown me anything, it's that I cannot live this life without you in it. I will love you until I take my last breath and then some. You are my heart, Brighton."
I had a ridiculous amount of fun reading Bree and Luke's second chance romance. From the first time we saw Bree in the series, I knew there was some hidden pain, something she'd been through, that made her the feisty person she showed the world who deflected all personal questions. And while it wasn't anything as traumatic as Abby in She's the One or Bella in Surrender to Me, Bree'd had her heart broken, for sure. This book explained the whole situation. Thankfully, it was told from both her and Luke's perspective, because getting insight into his feelings for Bree and what happened when they split up gave this story the depth it needed for us to truly understand it all.
From the meet-cute where Bree comically misunderstood something about Luke to their whirlwind secret courtship, I couldn't get enough of them together. They were sweet, absolutely adorable, and tailor made for each other. But Luke's stardom was the wrench in the works. You just knew that unfortunately they'd either be found out by the press or something would happen to shatter their privacy, making Bree and Luke choose if they could make things work in the public eye.
I'll admit to being angry with both Luke and Bree over how everything went down. But, obviously, people make mistakes. And I also have to admit that seeing Luke doing his best to win back Bree's heart was sigh-worthy and a whole lot of fun, considering how her parents and her group of friends we've met in previous books meddled in it all. (Poor Kyle! lol) There were a few more hiccups along the way, but in true Kelly Elliott style, the ending was swoony, heartfelt, and fit Bree and Luke's relationship perfectly.
QOTD: Have you ever met anyone famous? If so, did you ask for an autograph/selfie or admire them from afar?
Book Info:

Publication: March 22nd 2022 | K. Elliott Enterprises, INC | Boggy Creek Valley #5
Brighton Rogers thought her life was as normal as normal could be, even better than normal. She has a thriving career as a lawyer in Boston. Friends and family back in her hometown of Boggy Creek love and adore her. And her boyfriend, Luke Morrison, showers her with love and attention, making her life finally feel complete.
But when Brighton discovers what life with a famous actor is all about—her normal life is turned upside down. All this time, Brighton felt that what they shared was genuine, that Luke was her forever; but now she can't help but wonder if it was all an act. Was she playing a role she had no idea she'd been cast in? So, she does the one thing she can do and runs straight back to the safety of Boggy Creek.
Luke Morrison never imagined he would entertain the thought of leaving behind his successful career as an actor. Not just any actor, one of the top paid actors in Hollywood. But the moment he meets Brighton on a blind date, his life is changed forever. The only problem is balancing his career while attempting to keep his private life just that…private.
When one too many misunderstandings happen because of the press, Brighton breaks up with Luke, causing him to rethink what lies ahead in his future. A future he cannot imagine without Brighton Rogers in it. But Brighton is no ordinary woman and winning her back will force Luke to make one of the biggest sacrifices he's ever made; one he is positive he can make because a life without Bree in it, is no life at all.
Now, to win back the love of his life and prove to her she is all that matters to him…