Wrong Brother, Right Kiss by Joss Wood is a weird (in the good sense) enemies-to-lovers story. In the early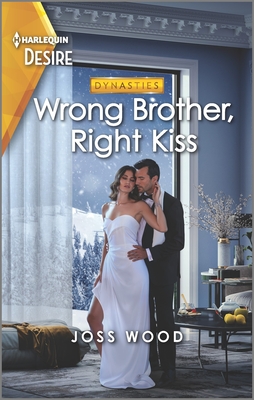 hours of the new year, Tinsley Ryder-White and Cody Gallant spend a steamy night of passion together. But things aren't as easy as they seem. Cody is JT's—her ex husband— brother! Plus, he and Tinsley have had a mutual animosity over the years. An animosity that covered their mutual attraction, of course. As if that weren't enough, both will have to work together. And, to put the icing on the cake, two pink stripes would unite them forever…
This book is wonderful because, despite seeing the typical enemies-lovers plot and the unexpected pregnancy factor, the truth is that we can see main characters dealing with strong emotional issues. Most of them from their respective childhood. Tinsley is a person obsessed with control and perfection. Everything in her life has to be coldly calculated and planned. That's why her marriage to JT wasn't what she expected, marrying a man with a high IQ, but a complete emotional illiterate (I really wanted to hit Tinsley's ex with a huge blunt object ).
"Don't let them see you sweat…"
Cody, for his part, had to raise JT after the death of her mother, at age 12, and the total disregard of his father. He doesn't want to take on someone else's responsibility again, so he avoids marriage and children at all costs.
What I find fascinating about this story is that we don't see the traditional formula of the hero-looking-to-do-the-right-thing when he knows he has gotten the woman he wants pregnant. Meaning marry the heroine. Yes, Cody wants to have a relationship with his baby. He also wants to support Tinsley financially (even though she doesn't want or need his money). Marry Tinsley? He wants and loves her, but after freeing himself from the forced responsibility of caring for her ungrateful brother (the brothers barely speak to each other), he has his doubts about whether he can be a good father to her baby and the support that Tinsley needs. Something that's made more difficult by having a emotionally distantTinsley who, although she loves Cody, she keeps him at bay in her eagerness not to give up control. Because yes, these two WANT EACH OTHER, LOVE EACH OTHER and their encounters are HOT.
An important detail is that, as in the first book of the series (Secrets of a Bad Reputation), there are several parallel stories. Not only is the fact that the first half of this book takes place chronologically as Kinga's (Tinsley's sister, Book 1) story unfolds, but the secrets Tinsley and Kinga's parents have are being revealed, piece by piece, from the couple's own perspective.
Although the story has some minor flaws, they reflect the imperfection that Tinsley needs and that only with Cody she dares to explore.
"With Cody, she could be herself: messy, emotional, IMPERFECT."
I'm fascinated with this series, and I'm already looking forward to the third book. Ms. Wood has done an exquisite job. And the preview of what will be the next book is phenomenal.
Book Info:

Publication: March 29, 2022 | Harlequin Desire | Dynasties: DNA Dilemma #2
A New Year's kiss with the man she loves to hate sets off a chain reaction in Joss Wood's Dynasties: DNA Dilemma page-turner!
This was her former brother-in-law.
The last person who should make her feel hot…and alive.
Events guru Cody Gallant is off-limits to Tinsley Ryder-White. Why? Cody is the brother of her unreliable ex-husband. Sure, there's a major spark between them. But she won't risk falling in love again. Even if Cody is sexy, considerate—everything his brother isn't. Business pushes them together, but she can't blame that for kissing him on New Year's! Is it a future together she sees in Cody's smoldering gaze? Or the promise of another Gallant-brother heartbreak?
From Harlequin Desire: A luxurious world of bold encounters and sizzling chemistry.
Love triumphs in these uplifting romances, part of the Dynasties: DNA Dilemma series:
Book 1: Secrets of a Bad Reputation
Book 2: Wrong Brother, Right Kiss
Book 3: Lost and Found Heir
Book 4: The Secret Heir Return