In Heat Of The Moment by Robin Kaye, Cameron has raised his young daughter Janie on his own with the help of his brothers and father since she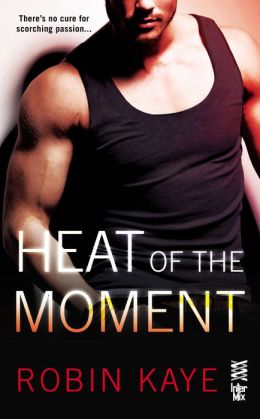 was a baby. Janie has been very ill, but is now in full recovery mode and ready to come home from the hospital. With the nanny away and Cameron on call as an arson investigator, he looks to find a temporary live in nanny with medical experience.
Erin is an RN who is currently working towards her Master's degree. Despite a mix up and an unusual interview, Erin gets the job as Janie's temporary nanny. Janie is a sweet girl eager to be 'normal' again. Cameron makes Erin's pulse pound and her body react in ways it hasn't for a long time. Erin is determined to keep things professional, ignoring the attraction. But the attraction is mutual, and with the fantastic chemistry between Erin and Cameron, how long can they deny it? Will it be worth the risk to take the chance? And when they do…then what? Each will react differently that will make the next step difficult.
Heat Of The Moment is a fast paced novella that introduces us to Robin's new series. I found the length of the novella was perfect for the story being told. I felt like I got all of Erin and Cameron's story, and at the same time Robin seamlessly introduces us to other characters I assume will be part of the future of this series without taking away from the main plot.
Erin and Cameron felt like real people, and I like how Robin brought them together. I liked that they developed a connection and didn't immediately fall into bed. It was still fast, but the circumstance they are in makes this believable.
I also liked that Robin does give some family background on Erin and Cameron, but didn't overwhelm me with unnecessary details. I got enough to have a good understanding of both main characters that satisfied me.
The secondary characters are at times hilarious and little Janie will steal your heart!
I'd recommend Heat Of The Moment by Robin Kaye to romance readers looking for a spicy, quick, entertaining read.
Book Info:

Published October 21st 2014 by InterMix
Cameron O'Leary, a 4th generation firefighter turned arson investigator, thinks he's the luckiest man in the world—after a year of sickness in the family, everyone's finally on the mend, and his life can go back to its even keel. But even though Cameron has moved to Boston to be there for his family, some sort of live-in nurse is still necessary, given the demands of his job.
Erin Crosby is financing her master's thesis in social work by acting as a home health care nurse. Working for Cameron seems like the perfect gig—low key, plenty of time to work on her thesis, and the patient is lovely. She might never have lived with a man before—she's never found anyone she cared about that much, had barely even considered it—but Cameron is easy to live with, and an easy friendship blooms between them.
But it gets harder and harder for Cameron to keep his hands off of his charming employee—and for Erin to remember that she hasn't really moved into Cameron's life.