In Hello Again (The Evelyn Talbot Chronicles #2) by Brenda Novak, When psychiatrist Evelyn Talbot began her career, her goal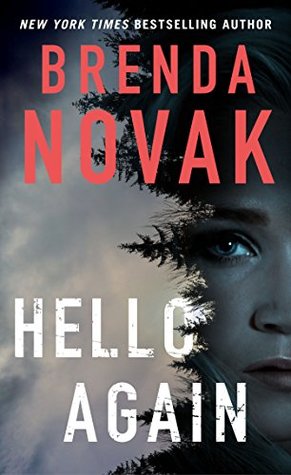 was to be the voice for kidnap and torture victims and to understand the mind of psychopaths so she could possibly prevent further attacks against the innocent. But nothing could have prepared her to go face-to-face with Lyman Bishop when he's transferred to Hanover House in Alaska. With a brilliant mind and a seemingly average looking appearance, he's convincing enough to make Evelyn doubt his guilt. She's not sure if the so-called Zombie Maker truly is innocent or if he's manipulative to a frightening degree. Either way, she plans to interview Lyman and do intense studies until she figures it out.
If she went back to Boston, would she ever be able to find someone she loved as much? "I'm glad I met you," she said. "You've changed everything."
There was a slight pause. Then he said, "Good. Then maybe you'll never want to leave."
Evelyn's personal life is also heating up in the tiny Alaskan town of Hilltop, with local police officer Amarok. They've reached the point where things are either going to get very serious or they will have to let go of each other. Amarok knows which way he would choose but he's going to have to convince Evelyn that he can handle what life throws at them. Then a murder is reported back in Evelyn's hometown of Boston, this time of a former classmate, with all fingers pointing to her former abductor, Jasper Moore being the culprit. She's been his target for twenty-one years and knows that the day will soon come when she'll have to face him down yet again. What Evelyn doesn't realize is that Jasper may just be closer to finding her than she realizes and that he is already planning how their final showdown will happen.
"They're going to catch you someday."
"I doubt it. They never catch the really good ones. I move around, know what kinds of victims to target, how to cover my tracks. There are too many people in the world. I actually perform a vital function. As far as I'm concerned, there needs to be more killers like me."
Exciting, terrifying, and the type of story that will keep you wondering what could possibly happen next, Hello Again is concrete proof of Brenda Novak's wonderful writing prowess.
'She was waging a war against the conscienceless, could never weaken, give up or retreat. Someone had to do something, for the benefit of every person who'd never been victimized.'
Possible trigger warning: Partly told from psychopathic/murderers' POVs, including gory details of the crimes; also includes abduction, torture, physical, mental and sexual abuse.
I think I say this every time I read something by Brenda Novak but boy do I adore her stories! This particular series will probably be difficult for some readers as it deals with psychopaths and darker themes, but I honestly didn't feel as if it overwhelmed the story itself. Novak balanced out that heaviness by adding in Evelyn and Amarok's sweet romance as well as some glimpses into the quirky but comforting small town of Hilltop, Alaska. I loved how it all worked together. And I also thought it was perfect how Novak told this from multiple view points so we got a feel for who the main characters really were. But interestingly, there were certain events that happened without it being shown from a particular POV, instead being told second hand by members of the cast, so we had to guess as to who was behind it. Very tricky, Brenda… (lol)
I have to be careful here not to give away too much as everything that happened in this installment kind of built up, scene by scene. Of course Hello Again was mainly about Evelyn, her research at Hanover House, her relationship with Amarok, and whether Jasper was still after her, twenty-one years later. There were still issues to sort out from what happened in book one, but it felt like what needed the most attention was Evelyn's personal life. I love how things had progressed between her and Amarok–a terrific book boyfriend, I might add–and that they were contemplating their future together. Even though they were both waffling a little on if they could work long-term, it felt real and not angsty. Amarok knew he would always worry about Evelyn, given her job with murderers, and he didn't know if she'd want to stay in Alaska permanently. And Evelyn didn't want to drag Amarok–and any potential children, if they got that far–into her life with the threat of Jasper coming after her. A complicated predicament that will still need to be dealt with going forward into the next book, as I would have expected.
Oh, that ending. Whew! Book three already promises to be an incredible journey, given how things left off here. I think fans of Brenda Novak's work will undoubtedly enjoy this series and these characters immensely. Highly recommended.
Book Info:

Publication: Published October 3rd 2017 | St. Martin's Paperbacks | The Evelyn Talbot Chronicles #2
SHE CAN MAKE SENSE OF A COMPLEX CRIMINAL MIND.
Evelyn Talbot, a psychiatrist at a maximum-security prison in Alaska, studies some of the world's worst serial killers. But she's about to meet her most elusive patient at Hanover House yet: Dr. Lyman Bishop, AKA the Zombie Maker given his fondness for performing ice-pick lobotomies on his victims. A brilliant cancer researcher, Bishop is either the most cunning psychopath Evelyn has ever encountered―or he is wrongly convicted.
WHAT HAPPENS WHEN A CRIMINAL CAN SEE INTO HER OWN?
When a new ice-pick fatality occurs, it seems Bishop really was wrongly convicted. Except…Evelyn has a personal connection to the victim and that suggests the killer may be someone from her own past: Jasper Moore, her high school boyfriend who tortured her and left her for dead when she was only sixteen. Jasper also murdered three of her friends―and was never caught. Is he trying to send a message with this copycat crime? The only thing Evelyn knows for sure is that if Jasper is on her trail, she might not be able to escape again . . .