In Her Callahan Family Man by Tina Leonard, Jace Callahan has not been able to get Sawyer Cash out his mind. They had the best affair ever, but she suddenly decided to leave her job as a bodyguard for the Callahan kids and hide away. Last he heard of her was when she went on a gun fight against her cousin without either of them knowing they were shooting at each other both thinking they were protecting the same person from the other. Now she has decided to bid for him at the Christmas ball and spent a good amount of money to win him over all the other women there. And he can't wait to have the date his beautiful redhead paid for.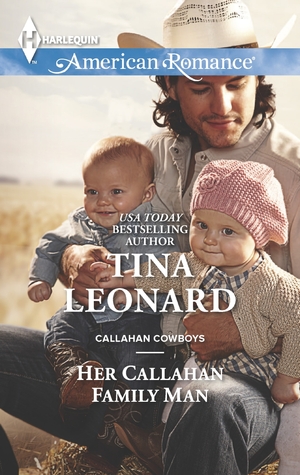 Jace decided to make the best use of his time with Sawyer now that he had her. What he did not expect was to find out that Sawyer is pregnant, with his twins. Now things will take a turn, for he will not let his children grow up without him or his name, and the first thing to do is to take Sawyer to Vegas and get married. Something that Sawyer is not very agreeable to.
But that does not mean that she will hide away with her children while the man she loves risk his life fighting his uncle and their nemesis that are hell bent on stealing their land, like all the other Callahan brides and children have had to do in the past.
No, Sawyer will fight to remain as close as possible to protect her husband and her children, she is a bodyguard after all. And there is still that tiny kernel of guilt that she has not been entirely truthful to her husband, and that this may be something that none of the Callahan's can forgive once they learn the truth of her reason for applying for a job there to begin with.
Things will not be easy for Sawyer and Jace, for lies by omission and doubts because of her family can bring complications to their relationship. Unless they can trust each other and are completely honest neither will be able to continue forward in what could be their only chance at being together as a family. And this is something and Jace's uncle Wolf will take advantage of if they are not careful.
If you have liked the Callahan series and adventures, you will not be disappointed when the last bachelor gets hitched, and if you are like me you probably can't wait to read the last book and only Callahan woman's story to find out how Ashlyn will find her HEA.
For a fun, adventure filled and very entertaining read, don't miss Her Callahan Family Man by Tina Leonard.
Book Info:

January 7th 2014 by Harlequin
A Callahan And A Cash—Forever?
Sawyer Cash pregnant? With twins? The fiery-haired bodyguard who had secretly shared Jace Callahan's bed just rocked his world. The only solution is a quickie Vegas wedding. Then it's back to Rancho Diablo, where Jace can keep an eagle eye on his bride and babies-to-be while waging war against the Callahan nemesis hell-bent on stealing his land.
Jace knows Sawyer thinks she's only brought him trouble. She wanted to catch a Callahan and now she and their baby boy and girl are right in the line of fire. But doesn't Sawyer know she's the only woman for him, even if her family might be in the enemy camp? With things reaching a boiling point, Jace vows to fight for his family's future as only a Callahan can!