Her Dirty Little Secret by J.C. Harroway is a steamy second chance romance, part of Harlequin's new Dare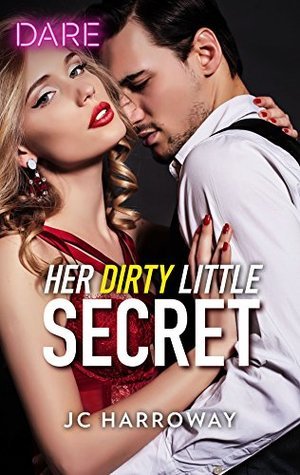 imprint. It's loosely linked with her previous Dare romance, A Week to be Wild as the hero in this one, Jack, is a cousin of Alex, the hero of the earlier story. Having thoroughly enjoyed Alex and Libby's story, I was excited to read this one!
Jack Demont never knew why Harley Jacob dumped him as a teenager, but it was the harbinger of more bad news to come. His parents and Harley's parents had a falling out, his parents divorced, and the next several years were spent with him overcoming a number of challenges to eventually become a successful property developer. He's spent years trying to forget Harley – a difficult task now that she's re-entered his life with a business proposition.
Harley doesn't understand why her purchase of the Morris building has stalled – until she discovers it's Jack that owns it. She wants to build a school for dyslexic children, something she's dealt with personally and she needs that property. Convincing Jack to sell to her is complicated by the searing sexual attraction between them, a reminder of what they had and lost. Plus, Harley has never told anyone why she ended their relationship. When they start a heated sex only affair, will it lead to more or will the secret Harley's keeping ruin their second chance?
I loved this story! In fact, I'm putting this author on my watch list because she's written two stories in a row that I've found to be exciting and sexy romances with women empowered to fight for what they want. Here Harley has the additional challenge of being dyslexic but not letting it stop her from achieving her dreams. She's a fashion designer, a disappointment to her father who never understand her educational issues, but it's something she loves and is good at. All of the profits from her clothing sales go to different charities, and she's worked hard to make a name independent of her father's. The school to aid dyslexic students is a side project but one she's not going to give up without a fight, even if it means having to be around Jack again. And that turns out to be not such a hardship after all.
For his part, Jack is understandably wary of Harley since she already broke his heart once. Plus, he thinks of her as a spoiled heiress, at least until he gets to know her better. It doesn't stop him from desiring her and remembering how they were together. They share some steamy scenes with the mutual agreement that they are not interested in anything more than sex but it doesn't take long for things to get more complicated. As always, secrets have a way of coming out and this gives Jack and Harley some predictable conflict as they sort through the past, and decide about their future. In the end they make the choices that give them a happy ending. It's a sexy and entertaining romance and I'm looking forward to whatever this author has coming next!

Book Info:

Publication: April 01, 2018 | Harlequin Dare |
The #1 rule for secret flings:
All kissing, no telling!
Nothing satisfies billionaire Jack Demont more than keeping socialite Harley Jacob from what she wants. After all, their families hate each other, and there's unresolved history between them…along with some serious sexual chemistry! Now they're consumed by a wicked game of lust — they'll give each other mindless pleasure, but nothing else. No one can know, and keeping something this sexy a secret makes everything a whole lot hotter…