Royal Treatment by Tracy Wolff: Garrett was groomed from birth to be king and he's played by all the rules.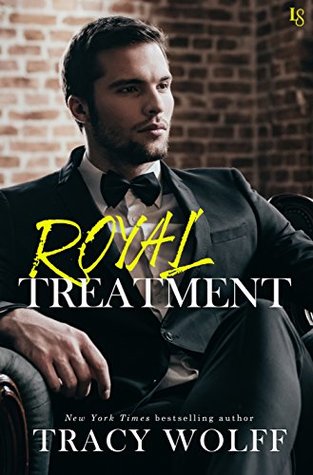 Everything changed when he was kidnapped, tortured, and finally rescued after months in captivity. Now he's been forced into the role of spare and he's itching to earn back his father's trust enough to resume his rightful place. He's dutiful, serious, and passionate about his country while also being sexy, charming, and generous.
Lola is a fashionable, savvy entrepreneur with plenty of sass. She's very independent and lives life on her own terms. She loves vintage clothes and found a way to turn that passion into a very successful business. It doesn't hurt that she gets to travel all over searching for her merchandise. She's fun, bold, and tells it like it is.
Garrett has tried to live the life of the spare with parties and women like his younger twin did, but he wasn't meant for the playboy prince lifestyle. All of his focus is on resuming his role of crown prince, until he meets the fiery Lola. She doesn't treat him like a prince or like a broken man, which is a refreshing change.
"I'm here on business."
"What kind of business?"
"You got my phone number and not my bio?"
"The bio seemed like prying."
"Nice to know you've got standards."
Lola seems like the perfect distraction from his troubles, but Lola isn't looking for a distraction or to get sidetracked by some guy, even if he is a prince. They have amazing chemistry that makes it impossible to truly walk away. What begins as a seemingly innocent flirtation blows up when pictures of them make the news. Garrett is definitely protective while Lola shows him some of the simpler pleasures in life and how to let loose.
"Aww, look at you. We've only been dating a few days and already you know me so well."
"Seeing it is no great shakes, sweetheart," he says with a snort. "You wear reckless like French women wear lipstick. Subtle some days, red hot on others, but always, always, always essential."
"I'll take that as a compliment."
Royal Treatment is an entertaining royal romance that's lighthearted, fun, and serious. Tracy Wolff brings banter and heat as opposites attract. Ms. Wolff created well matched characters and a chance to revisit Kian and Savvy. Royal Treatment can be read as a standalone book. Fans of Jessica Clare and JB Salsbury will enjoy Royal Treatment.


Book Info:

Publication: April 24th 2018 | Loveswept | His Royal Hotness #2
What's a crown prince to do with time on his hands? Or better yet, who? It's Prince Garrett's turn to find love in this mouthwatering standalone novel from the New York Times bestselling author of Royal Pain.
Once upon a time I was being groomed to sit on the throne of Wildemar. Now I'm lucky they let me into the palace through the front door. After I was kidnapped and tortured by extremists, my reward upon my release is that nobody trusts me enough to let me be king. And since my twin brother, Kian, has assumed all my responsibilities, I figure why not take over as the black sheep?
But after breaking things off with my betrothed—we never had much chemistry, anyway—and giving the jetsetting playboy lifestyle a try, I'm starting to wonder if I'm cut out for this s***. Then I meet Lola Barnes, a drop-dead gorgeous entrepreneur from the States who's as refreshing as she is feisty.
It's supposed to be a one-night-stand—until the press catches wind of my "new American sweetheart." Trouble is, Lola's no sweetheart. But the more I see our names together in the headlines, the more I find myself craving another taste. . . .