Her Holiday Fling by Jennifer Snow is a sexy vacation romance where two strangers find they can help each other out, but get a lot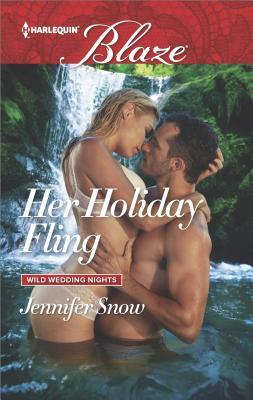 more out of the deal than they expected.
The timing of Hayley Hanna's last breakup coinciding with a magazine interview might have gone unnoticed if she hadn't relayed some of her bitterness over men in general and the institution of marriage quite so publicly. Trying to convince her bosses at the legal firm where she works as a divorce lawyer that she's really not a man-hater, she makes up a fake fiancé, one who is supposed to join her at a corporate retreat in Hawaii. Her plan to go solo and make up an excuse for his absence gets turned upside down when she meets her handsome seat mate, Chase Hartley.
Chase, a career police officer, is not particularly looking forward to his sister's nuptials in sunny Hawaii, knowing that some of her single girlfriends will be on the hunt. When a chat with his attractive seatmate reveals that they have a similar predicament, and are staying at resorts just down the street from each other, they hatch a plan. He'll pretend to be her fiancé for the social parts of her corporate retreat that don't conflict with his sister's wedding schedule, and Hayley will return the favor. It doesn't hurt that there's clearly a good deal of sexual attraction sparking between the two of them. But will their charade be discovered before the week is out? And what happens when they both realize they want more than just a vacation romance?
I really enjoyed this fun and sexy story! Hayley and Chase's chemistry is clear from the start and it doesn't take long for things to heat up between them. They are commitment phobic for good reasons, and a holiday fling that has the added benefit of some sexy times works for them both. The tricky part is the sharing, the opening up of secrets and feelings and intimacy that starts to make them really care for each other. Hayley in particular feels the guilt of Chase's family befriending her and making her feel welcome, all while knowing that they'll have to 'break up' when they go home (though fortuitously they do live in the same city…).
The story isn't without its conflicts as they start to learn more about each other, and have to navigate keeping the secret of their fake relationship from Hayley's work colleagues and Chase's family. There are also some surprising plot twists and turns that I didn't expect! The tropical setting works well as a backdrop to the story and made me long for some beach weather here. It's an overall lighthearted and entertaining read, and the introduction of several of Chase's siblings makes me hope there will be more to tell about the Hartley family!

Book Info:

Publication: Feb 21, 2017 | Harlequin Blaze | Wild Wedding Nights
What happens in Hawaii…
Divorce lawyer Hayley Hanna has one week to convince her bosses she's not a -ruthless, man-hating shark.- And it's not going to be easy. In a moment of insanity, Hayley agrees to bring her fiance to the corporate retreat in Maui. But there's one problem: she hasn't got a fiance.
Enter Chase Hartley–six feet of sexy, sculpted police muscle. Chase needs a date for his sister's island wedding–someone to stop the family matchmakers. The chemistry between Hayley and Chase is just a bonus–one that quickly turns hot nights into sizzling sexcapades. All they have to do is resist believing their own lie. But just because their relationship is fake doesn't mean that falling for each other won't have real consequences!