Her Hot Number by Talia Hunter is an entertaining read. It is a second chance romance between best friends and one-time lovers back in high school. Now twelve years later, the friends meet again and as they spend time together, their unresolved baggage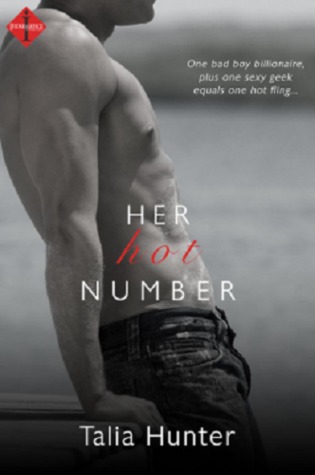 begins to very slowly dissipate. Blake owns the resort Caylee is staying in while she attends a mathematical fundraising conference. He offers her half his suite, since the resort is completely booked and her reservation has been cancelled.
Blake and Caylee grew up together. Blake was the resident bad boy, finding solace from his unstable home life by hanging out with Caylee in her bedroom. While Caylee studied, Blake would annoyingly torture her. Their friendship was odd, considering how different they were from each other, but it worked. Then one day Blake left to go live life peacefully with his uncle in Idaho. Since Caylee was visiting Stanford the day that he moved and her bedroom was some how ransacked, she never saw the note Blake left for her on her pillow. She only knew that some very personal items were stolen and Blake was gone.
To begin with, this book opened with a negative vibe, which sort of set the melancholy tone of the entire story. Secondly, the book was based on a situation from years ago that both main characters avoid discussing like the plague. If they just took some time to communicate, instead of internalizing every little thing, they could have enjoyed each others company a lot sooner. Lastly, the constant apologizing by both Blake and Caylee grew tiresome by the time I reached the end of the story.
On a positive note, Blake and Caylee have a heartwarming chemistry, which is both hot and sexy. I loved Blake's sense of fashion and how he knew what styles would look terrific on Caylee. If for some reason owning resort properties did not pan out, Blake could always make a living as a celebrity stylist. It was refreshing to read a book about an extremely smart woman, being a successful mathematician and researcher. Overall, I liked this story and how the author evolved the relationship between Caylee and Blake.
Book Info:

Publication: October 20th 2014 by Entangled: Indulgence
It's a travel nightmare for mathematician Caylee Reynolds. It's bad enough that her luggage was lost en route to her conference, but when she arrives at the Australian resort and learns that she's also lost her reservation, Caylee's ready to break down. Then things get even worse. The resort is owned by Blake Sampson―the bad boy who once took everything from her…
Blake thought he'd left his troubled past far behind him. Then the sexy-but-proper math guru he's never been able to forget walks into his lobby. Hoping to show Caylee he's changed, he offers to share his suite. Except the attraction between them only grows in such close quarters―exponentially.
Even though Blake's incredibly successful—and hot—Caylee's not sure she can risk her heart again. Not after the way he destroyed her trust when he disappeared years ago. But if she's wrong in her calculations, she could lose everything…