In Turning the Good Girl Bad by Avril Tremayne, Catherine North has led everyone at Rutherford Property to believe she's an uptight, Type A personality who has no social life to speak of. If only they knew her secret passion: she's writing a steamy romance novel titled Passion Flower which may or may not be about her crush on her boss. Catherine should know better than to lust after Max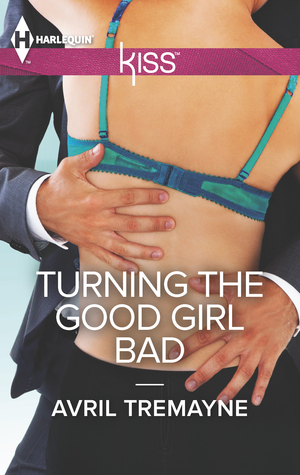 Rutherford, having had a horrific experience with her last job. But she can't get his blue eyes out of her head no matter what she does. Unfortunately, Max finds part of her manuscript, and to her horror, reads it. Denying who the characters are based on doesn't seem to be working. So Catherine decides should take a page from her own written work and give in to her desire for Max.
'No–God, no. Max Rutherford had picked up a few pages of her book along with his report! And Max had started reading that report as she was leaving the office.'
Max Rutherford's personal assistant has been driving him crazy for the past four months. No, it's not that she's not good at her job. Catherine is actually very smart and on-point when it comes to their projects. The problem is that she's a temptation Max is trying very, very hard not to give in to. And he doesn't think he can hold on much longer before making a move. The final tipping point? Max accidentally reads what appears to be a love story written by none other than his stoic-but-beautiful Catherine. Suddenly what little control Max was capable of goes out the window as he intends to find out just what else she's hiding behind those drab clothes and prickly attitude.
"Are you saying if we're alone together you're going to kiss me, Max?"
"Huh?" Clearly an intelligent response was beyond him. Probably because he did want to kiss her. Right then. Right there.
Turning the Good Girl Bad is a boss-employee romance where Max and Catherine's forbidden feelings won't seem to go away until they are (very thoroughly) researched.
This particular trope is one that is usually either quite entertaining or very frustrating for the reader. For the most part, Catherine and Max's relationship was fun as they were denying their growing feelings for each other. There was a lot of delicious tension between them at work which led to some humorous situations that were difficult to talk their way out of. And I found that looks were deceiving with these two characters. Catherine wasn't quite the squeaky clean woman she presented herself as at the office, while Max had a romantic side locked up underneath the playboy attitude.
My only point of contention was how much Max and Catherine kept pushing each other away as the book progressed. It felt like they kept going through the same actions without moving forward or just calling it quits. But, the final part of the story did bring things back up to speed again and ended on a nice note. I did like the final outcome, with Max's big declaration making me smile and give a happy little sigh.
If you're a fan of office romances, Catherine and Max's slow burn relationship might be just what you're looking for.
Book Info:

Published October 3rd 2014 by Harlequin KISS
How bad can this good girl be? PA Catherine North is twin-set-and-pearls perfect. Her hair is tightly coiled and so is her sex life – it's safer that way. Her only release comes from the steamy romance novel she secretly pens, featuring her too-hot-to-handle boss, Max Rutherford. After all, a girl has to channel those fantasies into something productive…! But when Max finds the steamy book he sees his perfect PA in a whole new light. Now he wants to know just how bad his good girl can be…and he's going to enjoy every minute of finding out!