Her Intern by Anne Marsh is a sexy workplace romance set in the business and information technology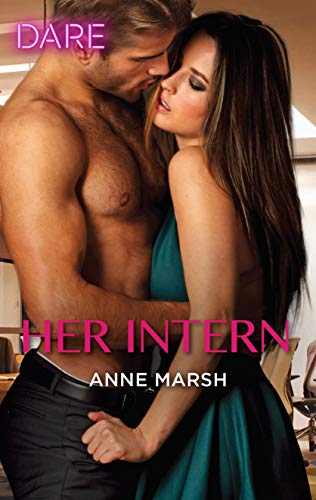 world.
When billionaire Devlin King discovers that his proprietary e-commerce software has been pirated, he's determined to find out who did it, and how. His search leads him to Lola Jones who is running a startup company, Calla Enterprises, with the goal of providing better access to all for feminine hygiene products. It's a noble goal – but she's using his stolen software. When he goes to confront her, she mistakenly believes he's the intern applying for a job. Devlin decides to play along in order to see from the inside what's going on, and determine if Lola is guilty of the theft. But when the sparks fly between them, it leads to a heated affair. What will happen when she finds out who Devlin really is and will it ruin their burgeoning relationship?
I really enjoyed this role reversal romance! Lola is in charge here, a talented, friendly, workaholic and she has no idea who Devlin is, except that he's younger than her, very talented in the coding department and super hot. Oh, and he's her employee. That makes for a few concerns ethically speaking but it's a short term summer job and they both know the stakes. Everything that happens between them once their attraction is front and center is consensual and they share some steamy encounters.
Lola starts to get suspicious about Devlin before too long, as he's prone to take over the meetings they have with investors that she's hoping will put up funds for her company, and his coding abilities are just too good for an intern. When the big reveal comes, she's hurt that he didn't just tell her the truth upfront and Devlin has to come up with a pretty good grovel to prove to her that regardless of how things started, he wants her in his life. I enjoyed the setting of this story and there are several secondary characters, mostly friends of Devlin who play a big role in pushing him to admit that he's been foolish and needs to buck up and fix things. And we do find out what happened with Devlin's software! It's a sexy and entertaining romance.

Book Info:

Publication: Nov 1, 2019 | Harlequin Dare |
My company's software has been pirated by a tech start-up, but its owner, the beautiful Lola Jones, would never admit it. As a renowned Silicon Valley CEO, I couldn't exactly walk into her office and accuse her—so when I saw a chance to go undercover as her new summer intern, I took it.
It shouldn't have been difficult to prove my theory, but Lola is smarter than I gave her credit for—and the chemistry between us is an unexpected complication. She might be an infuriating boss, but her power over me drives me wild with desire. When our sexual tension threatens to bubble over, we cross a line, and one night of exhilarating pleasure soon turns into several. Evidently, she's more than a match for me in bed as well as business.
As I've grown closer to Lola, I can't stop thinking about her. Each irresistible encounter is more electrifying than the last, and when she discovers my true identity, sparks will really fly…unless I can convince her our connection is worth fighting for!