Dirty Letters by Vi Keeland and Penelope Ward is flat out amazing. It's everything I could have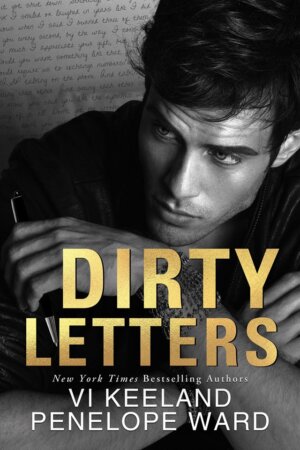 wanted in a sweet, sexy, swoony, heartbreaking package. Vi Keeland and Penelope Ward again created amazing characters that get into your heart and just don't let you go.
Luca and Griffin were childhood pen pals. Over the years they told each other everything as it's easy to share and be vulnerable when there's no chance of ever meeting. They connected over everything big and small in their lives until Luca just stopped responding. But one letter eight years later changes it all again.
Luca is smart, creative, and has an endearing pet, Hortencia. She's achieved some of her dreams yet her life has taken turns she never could have expected. In some ways, Griffin is on a parallel track. He's achieved his own dreams, but his life involves a lot of complications he didn't see coming. They reconnect through their letters and once again find that connection and a safe place to be vulnerable. Their letters start to go down a different path now that they are older.
"You called me your girl."
My brows drew down. "I did?"
She nodded. "When you introduced me to your assistant, you said, 'This is my girl, Luca.'"
I hadn't even noticed. But the truth of the matter was, she was my girl. I shrugged. "You are my girl, Luca. You'll figure it out, too, soon."
While Luca is refreshingly honest, Griffin holds something back. He treasures what they have until Luca takes that option away from him. Theirs is a friendship on fire when they finally met in person and have a chance for more. Griffin is so sweet, patient, generous, and willing to make a relationship work in a seemingly impossible context. Griffin challenges Luca to step out of her comfort zone and more fully embrace life.
"If I was the type of person who fit into your lifestyle, you wouldn't be feeling that way. This would be easy."
"Just because something is easy doesn't make it better. We have our issues. But being with you still feels better than anything else in the world. Sometimes the best things are also the most challenging. And that's just the way it is."
Vi Keeland and Penelope Ward had me hooked from the beginning with this really different, unique, can't put this down story. Fans of Abby Jimenez, Claire Contreras, and K.A. Tucker will love Dirty Letters.

Book Info:

Publication: November 5th 2019 | Montlake Romance |
I'd never forgotten him—a man I'd yet to meet.
Griffin Quinn was my childhood pen pal, the British boy who couldn't have been more different from me. Over the years, through hundreds of letters, we became best friends, sharing our deepest, darkest secrets and forming a connection I never thought could break.
Until one day it did.
Then, out of the blue, a new letter arrived. A scathing one—one with eight years of pent-up anger. I had no choice but to finally come clean as to why I stopped writing.
Griffin forgave me, and somehow we were able to rekindle our childhood connection. Only now we were adults, and that connection had grown to a spark. Our letters quickly went from fun to flirty to downright dirty, revealing our wildest fantasies. So it only made sense that we would take our relationship to the next level and see each other in person.
Only Griff didn't want to meet. He asked that I trust him and said it was for the best. But I wanted more—more Griff, in the flesh—so I took a big chance and went looking for him. People have done crazier things for love.
But what I found could change everything.