Her Las Vegas Wedding by Andrea Bolter: Safe, it may not be a passionate love, but safe. Safe is important,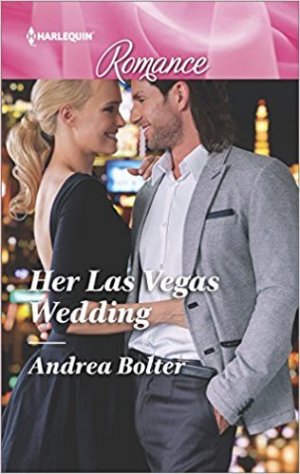 but should it be one of the top reasons to get married?
Audrey Girard thought it might be. That way nothing would change, she could go on about her life the same way her fiancé could. After all this was really just a business merger, right? Of course when he announces in a business meeting that he has fallen in love with someone else? Well that kind of changes things, doesn't?
Shane Murphy had been there and done that with love. He had one impulsive marriage and now was a widower. He was done with love, right? He didn't need responsibility or anyone in his life permanently. He just didn't.
The problem was Audrey and Shane were set to work very closely with one another for a month and there was chemistry that just wouldn't be denied. However would/could either one just be satisfied with just that?
This was an interesting offering from Ms. Bolter. Not in this readers top reads, but not in the worst either. It had high points but there was nothing that drew the reader in and had them wanting more, instead it just kind of was. The characters were spotty, the plot was good and had the leads been better drawn out would have been really amazing. It really seemed like the idea of the story was inventive and could have been very exciting so that gets a lot of props. Nothing to draw to the story but nothing to warn anyone away.

Book Info:
Valerie| 2 Stars | Nope! | No |
Publication: Expected publication: March 6th 2018 | Harlequin Romance |
From a convenient fiance…To an inconvenient attraction!When hotel heiress Audrey Girard's safe, convenient wedding to a business partner is called off, she's left to contend with her ex-fiance's brother–wild, brooding chef Shane Murphy. And there's certainly nothing safe about Audrey's attraction to Shane–every day they work together is even more dangerously tempting! Could there be a Las Vegas wedding in the cards after all?