A Scot's Surrender by Lily Maxton is the third story in her historical romance Townsend series. It's also her first male/male romance and features an opposites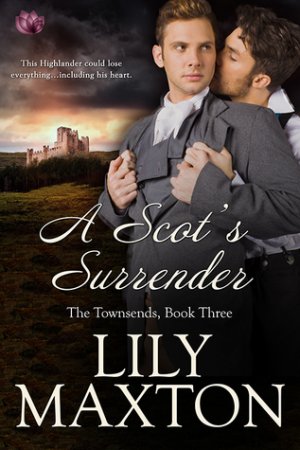 attract story set in the Scottish countryside.
Robert Townsend is in charge of his family's Lynmore Castle while his older brother is away. A fire at one of the cottages on their property lands the family's factor, a taciturn and broody Scot from the highlands named Ian Cameron as an unexpected houseguest. Robert's always been somewhat fascinated by Ian for reasons he's been hesitant to name even to himself, though Ian clearly doesn't think much of the easygoing and affable Robert.
If the stress of having Ian under his roof isn't enough, some stranded travelers also end up at the castle, and within a few days of their arrival some of their belongings go missing. A charge of thievery could ruin any servant's career, not to mention leaving Robert in the unenviable position of explaining yet another misfortune to befall the family to his older brother. Robert takes it upon himself to discover the truth, and while evidence initially points to Ian, it's clear there's more to the mystery. Conscripting Ian to help him means spending some time together, the result being the discovery that the animosity between them is really hiding a deeper passion. Becoming friends, then lovers, will Ian and Robert solve the mystery and figure out a way they can make their relationship a permanent one?
I've really enjoyed romances by Lily Maxton in the past as she writes engaging and interesting characters and she certainly does that here. Robert may be an aristocrat but he's not the heir since he's the younger son, and he's got a secret that he's keeping – he writes mysteries that have a popular following (even if the critics aren't always so impressed). He's a gentle and pleasant man who hasn't ever explored his bisexuality before. But Ian is someone who stirs his appetite to find out more.
Ian left his home as a teenager when his family kicked him out upon finding out he was gay, and has never gone back. He's a cynical man who trusts few and spends his days working on the land. His sexual experience is also limited due to the real possibility of being pilloried and jailed as homosexuality is illegal, and finding men willing to indulge means no names and furtive encounters with strangers. When he senses Robert's interest, he is careful to keep his distance, but that only works for so long.
Robert is the one to make the first move, from which point Ian can no longer resist the attraction. Their love scenes are sexy and full of emotion due to the risk they know they are taking. Their connection becomes stronger as the days go by but once they solve the mystery of the missing items, they must also figure out if being together is really possible. Coming out to one's family is fraught with danger in this time period and the easier route for Robert would be to marry. Fortunately they figure things out and the reader gets a satisfying happy ending. This is a low angst, slow burn, sexy romance between two men who are willing to risk much in order to be happy.

Book Info:

Publication: Mar 12, 2018 | Entangled Publishing | The Townsends #3
When his brother leaves him in charge of Llynmore Castle, Robert Townsend is determined to make everything go smoothly. What does it matter if he's inexplicably drawn to Ian Cameron, the estate's stoic steward? Robert is sure he can ignore the way the Highlander's apparent dislike of him gets under his skin. They'll muddle along just fine so long as they avoid one another. An excellent plan…until a fire forces Ian into the castle—and Robert's personal space.
Ian Cameron has worked for everything he owns, unlike spoiled Robert Townsend. And he may not have friends, but he has the Highlands and the stars, and what more could he really need? But when a guest's stolen possession appears in his room, he doesn't have much choice but to admit to the handsome and aggravatingly charming Townsend brother that he needs help. To solve this mystery, they'll have to put aside their differences. And as Ian learns more about Robert, he'll have to guard his heart…or it may be the next thing stolen.