In Her Last Wild Ride by Abby Green, New York City has never seemed so welcoming to Ashling Sullivan after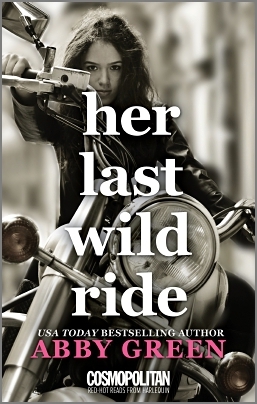 being away for over a decade. She's traded her career as a make-up artist on movie sets in Los Angeles to work with her best friend Jenna and start their own make-up/stylist agency. They have also promised each other to leave men in the dust for the time being. Especially after they've both had recent devastating break ups. But what started off as a stellar plan to to take her life back turns Ash into a walking ball of hormones after meeting Irish hunk Johnny Ryan. Should she accept his offer of a no-strings-attached fling for the next two weeks, or is it just a recipe for disaster?
'I vowed then that I'd savor every moment of this last wild ride and have no regrets when it was over. My protection was in knowing that Johnny Ryan wanted exactly the same thing.'
Irishman Johnny Ryan took off to the States after a row with his older sister and has regretted his actions ever since. After a couple of years to breathe and find his footing (read: sowing his wild oats), he is ready to face up to his past and contact his younger sister Caitlin who he just found out is also in NYC. Turns out that he'll have to wait for her to get back from a trip with her new boyfriend, but in the meantime, Johnny is more than willing to entertain himself with beautiful Ashling. Neither one of them is looking for a serious relationship, so a couple of weeks of having fun should take the edge off, right? If only it were that simple.
'He looked down at her and had to curb an animalistic urge to press her back against the bar and tip her head up and devour her until she couldn't speak or see straight.'
Her Last Wild Ride is an extremely aptly titled novella from Cosmo's Red-Hot Reads. With off-the-charts chemistry and a two week fling which rapidly turned into love, Ash and Johnny were an intriguing couple who were way out of their comfort zone.
I've been waiting for Johnny's story since reading his sister Caitlin's path to romance last summer in Getting Off. There were so many questions as to where he was and what happened after he stormed out of their home in Ireland. Author Abby Green turned up the heat in her pairing of Ash and Johnny in this story, giving us a super steamy but emotionally satisfying romance that I couldn't put down. I thought the writing was just as fun and hot as it was in Getting Off, and I'm seriously hoping that we get to see more of these characters in a follow up story. Maybe even something about Jenna's time in Miami? *hint hint*
Johnny and Ash were both solid characters who I thought were very easy to relate to. I wanted to see things work out between them, and between Johnny and his sisters as well. There was a nice immediate connection with Ash and Johnny, physically for sure, but also with them sensing that they'd both had a lot to deal with in their pasts. I thought it was what made them strive for a casual fling at first, although it was ultimately what drove them together emotionally in the end. And as always with a Cosmo Red-Hot Read, the love scenes were beyond sexy, even with some light bondage thrown in for good measure. 😉
As is a marker of a good story, I didn't want my time with Johnny & Ash to end. I think fans of fast and intense romances will enjoy this novella very much.
Book Info:

Publication: March 10th 2015 by Cosmopolitan Red-Hot Reads from Harlequin
Some guys know just what a girl needs…
Fresh off a brutal breakup—with a guy who was running for the World's Biggest Liar, Ashling Sullivan has returned to New York City to start over. Priority number one is getting her new business started with her BFF, Jenna. Hence their strict no-guys pact. No dating, no sex, no exceptions! Until temptation walks into her brother's bar in the form of a really, really hot guy!
She must resist. She will resist. Except that Johnny Ryan, with his cool, edgy but brooding attitude (what is it with this guy?) and his so, so strong carpenter's hands, is six-foot-three inches of ripped, Irish sexiness that turns Ash into a puddle of lust in about half a second. Worse yet, he offers her a deal that she can't refuse—a down 'n' dirty and wickedly hot two-week fling. Just one last ride before she gets down to business. No one will know! Ash is definitely not thinking with her head or her heart when she agrees…
Because this thing with Johnny goes way deeper than just chemistry. And what started as a last wild ride with a bad boy is definitely headed for a major head-on collision…