In Her Other Secret by HelenKay Dimon, Whitaker Island is where people go to get away or hide out. For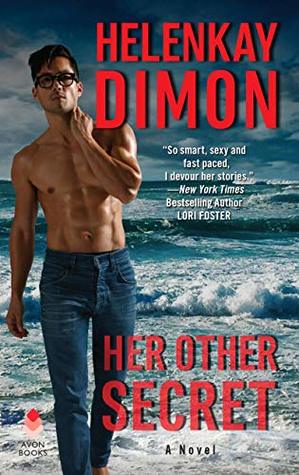 Tessa Jenkins, it's provided her sanctuary from a scandal involving her father. For Hansen Rye, it's an escape from a family tragedy. But soon it becomes the scene of a murder, with the deceased found on Tessa's lawn. When ghosts of Hansen's past resurface and he becomes a suspect in the murder, will they be able to prove his innocence?
This book is full of twists and turns making it hard to figure out who was involved and who knew what. This made the book more enjoyable for me. I also enjoyed all the secondary characters in the book. I'm interested in learning more about them, especially Ben, Hansen's best friend and the sheriff of the island.
As for Tessa and Hansen, they're a bit of opposites attract. Tessa is friendly, bubbly, and outgoing, while Hansen tends to be a grumpy introvert who prefers his own company. At first I honestly didn't know what Tessa saw in Hansen. He was rude and irritable. As the story progressed, however, his character loosens up a bit and readers to get to see a more redeeming side to him.
The romance in this book is secondary to the mystery, which left me feeling like the relationship between Tessa and Hansen wasn't built up quite as much as it could have been. Still, I enjoyed them together.
The characters are enjoyable, and the mystery and suspense are wonderfully executed. Readers of romantic suspense won't be disappointed.
Book Info:

Publication: June 25, 2019 | Avon |
Whitaker Island is more than a getaway. For Tessa Jenkins, the remote strip of land in Washington state is a sanctuary. Fleeing from a shattering scandal, she has a new name, a chance at a new beginning, and a breathtaking new view: Hansen Rye. It's hard not to crush on Whitaker's hottest handyman. At six-foot-three and all kinds of fine, he's also intensely private—and the attraction between them soon simmers dangerously out of control.
After a devastating family tragedy, Hansen finds the pebbled shores of the faraway island to be an ideal refuge. Letting down his guard for the sexy, impulsive Tessa is an unexpected pleasure. But there's another newcomer to Whitaker. He's no stranger to Hansen. And when he's murdered, the crime casts a threatening shadow. As suspicion falls on Hansen, all his secrets are about to collide with Tessa's. Now the pasts they were determined to outrun are catching up to them. So is a killer who's putting their love—and their lives—on the line.