The Bride Test by Helen Hoang is the second story in The Kiss Quotient series, a touching and sexy romance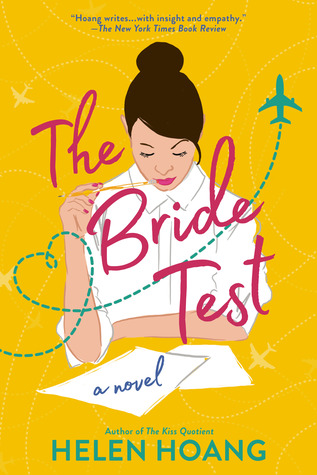 that shows an inside view of the immigrant experience and the challenges of an autistic man who learns that his way of showing love is just as valid as any other.
Khai Diep doesn't feel emotions the way others do. Even when his best friend died, he couldn't show his grief the way people expected. He believes this means that he's not cut out for dating relationships and certainly not for love. Worried that he'll end up alone, his mother decides to take matters into her own hands and find a potential bride for him in Vietnam.
When Khai's mother approaches My in a hotel bathroom where she works with the offer of a summer in America to be a possible bride to her son, My can't turn down the opportunity. She's a single mother supporting her daughter and life in America would be a dream come true. Plus, her own father is an American whom she's never met and she hopes that this will give her the opportunity to find him. With the blessing of her mother and daughter, she picks an English name, Esmeralda (Esme for short), and travels from Vietnam to California to live with Khai for the summer, and work for Khai's mother at her restaurant. She hopes to seduce Khai and get him to fall in love with her, but things don't go exactly as planned.
Khai doesn't know what to make of this intruder in his ordered life. As an autistic man, he likes things in their proper place, routines that make sense, and he has specific sensory needs. Sharing all these things with a stranger is going to be challenging. But Esme is beautiful and cheerful and she says she wants to get to know him, just as he is. He's definitely attracted to her, and it's not long before they figure out an intimate arrangement that works for them. But with Esme's tourist visa soon expiring, will Khai find the words to convince Esme to stay?
What a wonderful reading experience! The author doesn't shy away from the challenges Esme faces in her current working life in Vietnam, her poverty and how it affects the decisions she makes. Though leaving her daughter behind is a very tough decision, she makes it with a look to the future and being able to improve her family's situation. Adjusting to life in America takes courage and a willingness to step out of her comfort zone, plus she's rooming with a man who clearly wasn't ready for company. There are several scenes with Khai and Esme having communication issues because of their relevant personal experiences. Yet they still connect on a deeper level as Esme works to understand Khai's autism and be a partner to him. While she may hope for a marriage proposal at the start, she soon realizes that she wants love and she's not willing to settle for less.
Khai is a virgin, having figured that there was no point to dating a woman and having sex if he didn't plan to fall in love. Their first sexual encounter is enthusiastic but not without its flaws and they have to open the lines of communication to make things better. However Esme doesn't plan to rely on Khai to be her support, as she doesn't know whether things will work out for them in the end. She takes night classes and starts to look at other ways that would enable her to stay in the US when her tourist visa expires. I admired her resilience and her courage.
Khai has a supportive family, people who understand him and how he processes emotions differently even if he doesn't always understand himself. His brother Quan is someone he can turn to for advice, and Quan helps Khai see that his experience is just as true as anyone else's, even if it happens on a different time table and in his own way. It's these conversations that help him to process his grief over his friend's death, and his real feelings for Esme.
The Vietnamese culture is well described from several perspectives, including the American-Vietnamese experience. I'm glad the author stayed true to the proper names, titles, and cultural expressions to make for a more authentic reading experience. There are a lot of emotions to process in this story, from grief to laughter, frustration to joy. Esme and Khai's romance is unconventional but honest. There's a bit of a fairy tale ending and their happy ever after is well deserved. The epilogue is sweet too. I look forward to reading more stories in this series!
Book Info:

Publication: May 07, 2019 | Berkley | The Kiss Quotient #2
Khai Diep has no feelings. Well, he feels irritation when people move his things or contentment when ledgers balance down to the penny, but not big, important emotions—like grief. And love. He thinks he's defective. His family knows better—that his autism means he just processes emotions differently. When he steadfastly avoids relationships, his mother takes matters into her own hands and returns to Vietnam to find him the perfect bride.
As a mixed-race girl living in the slums of Ho Chi Minh City, Esme Tran has always felt out of place. When the opportunity arises to come to America and meet a potential husband, she can't turn it down, thinking this could be the break her family needs. Seducing Khai, however, doesn't go as planned. Esme's lessons in love seem to be working…but only on herself. She's hopelessly smitten with a man who's convinced he can never return her affection.
With Esme's time in the United States dwindling, Khai is forced to understand he's been wrong all along. And there's more than one way to love.