Her Second Chance Cowboy by Makenna Lee: This was such a heart-warming story and I'm so glad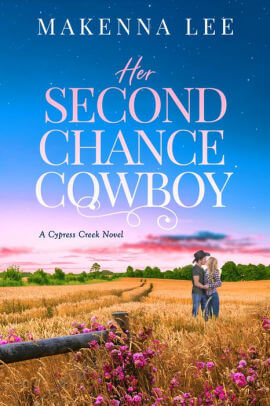 I discovered this author. The book was easy to read and was full of emotions, second-chance romance, and a mysterious treasure hunt. It was so easy to connect with the main characters and to be drawn into their story.
Reese Turner was a freelance photographer and was competing for a position for the National Geographic. She returns to Cypress Creek to try and buy back her grandmother's cottage where she spent many happy childhood years. She was working on her project for the magazine and taking some pictures of the area for one of her previous employers, Mr. Everett when she encounters James, the boy who broke her heart. The attraction between them was still there even after all the years apart, but she knew she was leaving at the end of summer, so they had no future together. She wants to travel and have adventures while taking photos for National Geographic. She realizes that Mr. Everett is wanting to purchase property around Cypress Creek to build a resort, but she loves the small town and couldn't allow that to happen, especially to her grandmother's cottage. Even though she knew she wouldn't stay, she had to save the small town.
James MacLachlan was happy in Cypress Creek taking care of his family ranch and starting an equine therapy program for children. After watching his father become a stranger when his mother died in childbirth, James won't risk having long term relationships or having children. Reese returning to Cypress Creek brings back the feelings of guilt he had for how he treated her in high school. The emotions he feels for her scares him now just like it did in the past, but he hopes that having a summer fling with her will cure him. They find a letter in one of his ancestor's photographs that sends them on a mysterious treasure hunt solving the clues and spending time together. When he realizes Reese sent pictures of his ranch and nearby land to the land developer, he felt betrayed by her because she had to know how much the land meant to him and he wasn't going to sell. As he slowly starts to question his future, Reese hears back from National Geographic.
This was truly a wonderful book to read. I fell in love with the small town and its people. It was so realistic and emotional that I couldn't put down the book. I hope the author has a book planned for Finn. My curiosity was raised by all the sneak peeks into his life.

Book Info:

Publication: July 20th 2020 | Entangled: Amara |
Wealthy cowboy, James MacLachlan, is content running his massive family ranch and starting an equine therapy program for special needs children. After his mother died in childbirth, and witnessing his father's destruction at the loss of true love, James sticks to casual affairs. Marriage and children are risks he won't take.
Reese Turner visits Cypress Creek, Texas, to complete a photo assignment for National Geographic and buy back her grandparents' cottage. After disastrous romances, she's sworn off men to focus on her career. Marriage and the babies she longs for can wait. When she runs into an old flame, she decides she can live out a fantasy, then leave town to pursue her dreams.
But love doesn't play by the rules…