Her Texan to Tame by Sara Orwig: When Ryan Delaney is told he's being sent a candidate for his position as ranch cook that's out of his parameters, he figures right off the bat that he's not going to hire her. Then she drives up in a screaming red sports car, and he KNOWS he can't hire her. His ranch manager Jeb even bets him that she can't make toast. Nevertheless, he doesn't hire single women – only married couples, and he tells Jessica Upton so.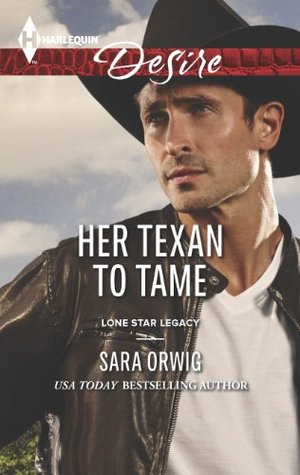 Jessica can't take no for an answer. At least she doesn't want to. She'll stop short of forcing herself on Ryan and the RD Ranch. She just wants to get away from her life in Tennessee. From the social circles that include her ex-husband, from her family, maybe get some peace, live in quiet solitude. The RD Ranch seems perfect. Surprising even herself, she convinces Ryan to let her stay the day and cook for him – if he doesn't find anyone more suitable, she can have the job.
Ryan must be out of his mind. He's not even sure he can survive the day – how is he going to make it a year with Jessica as his live-in cook? He already feels the attraction between them, and they only just met. Not to mention the fact that she's here to heal. To get away from an ex-husband that wants her back, a family that only wants 'what's best for her' when they meddle. No, he can't give her the job. No matter what. But damn – that roast is just too good to pass up. Before he knows what he's saying, he ends up giving the job to her, and showing her the suite down the hall from his room.
The days go by, and Ryan's admiration for Jessica grows. She's strong enough to be here getting over the man who broke her heart along with the other struggles she's survived, and she's one hell of a cook. Not fancy french stuff either – hearty stuff, and she's considerate enough to make things that he likes. When he learns she has aspirations to open her own restaurant someday – not just be arm candy or a rich socialite, he falls for her just a little more.
It's a good thing Ryan has to make trips to Houston often, or they'd fall into bed like a house on fire. Although – when he calls Jessica and admits that he misses her, it's really not helping. Then sharing some 'harmless kisses' is just fanning the flames. She can't afford to get into a relationship, and he doesn't do them. Of course, their brains have nothing to do with the things that happen behind closed doors.
When it's time for Jessica to go back to Tennessee and Ryan to say goodbye, will things go as smoothly as they hope? Somehow, I doubt it.
I really enjoyed the story here, but I do have a few nits to pick. The characters were just a tiny bit flat – but I could've ignored that if it were the only issue. Ryan is a cowboy – even though his business is in Houston. He should have a consistent Texas accent. To me, that means a lot of contractions and dropped 'g's. It happened sporadically through the book, but then it would flip-flop to a more formal tone. It was something that popped me out of the story, and that always gets me.
My last nit is kind of a biggie. Jessica said she didn't want to get into a relationship, then she slept with Ryan. (no big secret, so not a spoiler I hope). After that first time, she and Ryan talked, and she implied that they were headed straight for love. He didn't protest – even though he had already said he didn't "do" love. I kinda felt like he would've balked at that point. She was assuming a lot. It would've been more believable if she'd just run out and they got distant, but the talk made things seem wrongly awkward.
Anyway – the nits were my own, but I thought I'd give you the skinny. Like I said – the story kept me interested even if I was jarred to reality a couple of times. So I'll give it 3 stars.
Book Info: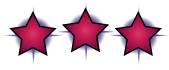 Published February 1st 2014 by Harlequin Desire
In this Lone Star Legacy novel from USA TODAY bestselling author Sara Orwig there's only one woman who can tame the boss…
Hiring a hot blonde to do the cooking? Probably not the smartest decision Texas rancher Ryan Delaney has ever made. But Jessica Upton is more than qualified…and currently the only candidate. Ryan just needs to keep a professional distance.
Except Jessica's vulnerability gets to him, and temptation proves irresistible. Even so, she claims their affair can't last. Jessica has her reasons for staying at the ranch—and reasons she'll soon have to leave. But she's about to discover to what lengths one determined Texan will go to lasso his heart's desire.