In A Matchless Romance by Christi Barth, Tabitha Bell is working on getting her matchmaking business A Matchless Romance up and running. When she collides with Drew Watson outside the store.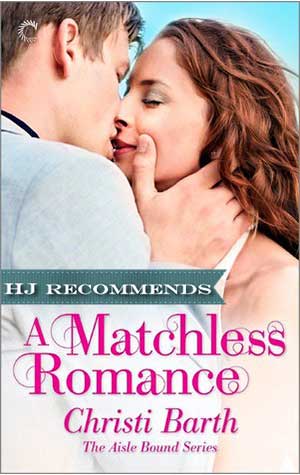 Drew has accepted what could be his dream job where he doesn't have to worry about money and concentrate on creating his video games. But he is in big trouble with his boss Keiko, he is late for work, he got off at the wrong train station and he needs someone to help him be more sociable. Not only that but the previous day he insulted a very big possible investor when she requested to be a character in his new game. Unfortunately the woman was expecting a flattering and sexy image and he suggested something that was the complete opposite.
As he is running to get to his office and thinking of a way to improve himself, he literally runs into Tabitha outside A Matchless Romance. In order to keep her from falling he grabs her, only he grabs quite a handful of her. To which she responded with "Did you run into me just to cop a feel?" At first Drew doesn't know what to say, but once she gets him to relax he figures that she is the help he needs. Not to find a date but to tutor him and give him a makeover and help him be more sociable towards women without insulting them.
Tabitha and Drew will find themselves getting closer and closer and she helps him learn how to flirt and be more at ease with women. Soon Tabitha will realize that the only woman she wants Drew to grow close to is her. But her ethics tell her that he is a client and she cannot be with him no matter how attractive she finds him or how much they have in common. Only her friends and boss will have a completely different opinion on the matter.
Well let me just say that this is a quick, fun and hot read. Drew and Tabitha will draw you in and have you unable to put your book down. You will love as Tabitha helps Drew become the handsome man he hides under the hoodie, jeans and sneakers and as all the women start to want to get close to him. Even if he is still awkward with them until he gets comfortable. I loved that in this last book for the Aisle Bound series, the last two single employees finally get their own match.
For a fun and hot read that will have you laughing and unable to put it down, don't miss A Matchless Romance by Christi Barth.
Book Info:

February 17th 2014 by Carina Press
Tabitha Bell is the face of Chicago's premiere matchmaking service. At least, she hopes it will be someday, once business really takes off. What she needs is more clients, so when she meets a sexy gamer in need of help, it's the perfect opportunity.
His discomfort talking to women almost cost Drew Watson his job. He'd be happy holed up in his office, designing blockbuster video games, but his boss considers talking to investors a nonnegotiable requirement. Who better than a matchmaker to teach him how to be comfortable around the opposite sex? Trouble is, Drew wants to get more than comfortable with Tabitha, while she's determined to keep their relationship all business.
Soon Tabitha learns that beneath the geek-chic hoodie lies six feet of sexy physique–and the more time she spends with Drew, the more she appreciates his brainy brand of charm. Will she succumb to his sweet-but-nerdy charm offensive or will it be game over before he can win her heart?