Here Comes the Bridesmaid by Avril Tremayne: Jon and Caleb fell in love in New York, but they were both from halfway around the world, and wanted a wedding ceremony back in Sydney. To do that, they needed to enlist the help of Caleb's brother Leo, and Jon's best friend Sunshine Smart. Even if it's a recipe for trouble.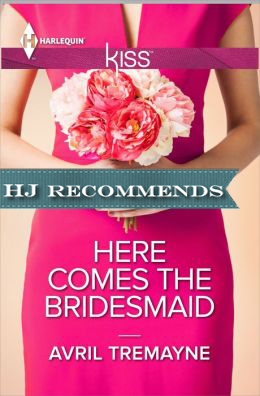 Leo simply couldn't believe "Sunshine" was a person's real name. Not only that – but that the person belonging to said name was all she appeared. Perpetually cheerful, always pushy, trying to 'soothe' decisions past him, he simply wouldn't have it. He'd go behind her back and talk to Caleb if he had to. Trouble is – Caleb wasn't much help in that department. He and Jonathan seemed to be quite firmly in her camp in all the wedding decisions – but Leo still had to figure out why it bothered him so much.
Sunshine thought things would just *have* to go smoothly with Leo Quartermaine. Everything had to be perfect for her best friend's big day, and that meant the same goes for his brother's. He seemed a little shell-shocked when they first met, but that tended to happen with her – so once they have the first planning session everything will be green-light, good to go. She just has to get him to grow out his hair, and talk him into a nice suit – one that will go with custom shoes, and maybe even get his ex to sing at the reception…
UGH! The woman is just maddening! Leo was at the breaking point with her – if it weren't for his brother and how much he loved him – he'd be seeing her in the rear-view already. He felt manipulated, even though it seemed like she was compromising. He was growing his hair out in exchange for her ditching the heavy eye makeup. Once he saw those mismatched eyes – why on earth she'd want to disguise them, he had no idea. infuriating was turning into fascinating with every meeting – and it really had to stop.
She opened her eyes at him. 'Oh, that sounds very alpha male.'
He didn't smile. 'You'll see alpha, beta, gamma and zeta male if you go near another man, Sunshine.'
'Oh, alpha, beta and zeta?'
'Alpha-beta-gamma-zeta. And don't roll your eyes.'
'Sorry.'
'I said don't roll your eyes.'
'All right!' Sunshine said, laughing.
I was going to give a little more detail in my summary, but I think I'll stop there. This book is amazingly deep and rich – I was enthralled from the very first chapter. The way the two leads dance around each other was impossible to tear myself away from.
There's a notable 'scene' where Leo and Sunshine are talking and he's saying one thing – and thinking the complete opposite. He also had a running dialogue wondering why he was agreeing to do the things for her that he was agreeing to. It was pretty hilarious, and Sunshine was delighted, but also oblivious to his tug-of-war. I felt like I could "see" him walking away in a stupor after that conversation – muttering to himself.
At one point, Leo takes a stand and in empowering himself, he forces Sunshine to face some things she didn't want to deal with. There's some angst, some self-reflection, and even some regret on Leo's part, but also quite a few really great touching moments, and they both end up better people for it. I loved the book, the characters, the love affairs, even the haiku. several hours well spent.
Book Info:

Published August 1st 2014 by Harlequin KISS
Can she make organizing her friend's wedding any harder? Sunshine Smart has only got two months until the big day! She has to include the grouchy, surly best man Leo Quartermaine–a top chef and her complete opposite! Said best man is extremely handsome and sexy–and knows it! He has no interest in decor, flowers, clothes or shoes… but has an uninformed opinion on all four! And just a few days in she's already slept with him. Rookie mistake…