In Hidden Away (Hearts of Montana #2) by Jennie Marts, Taylor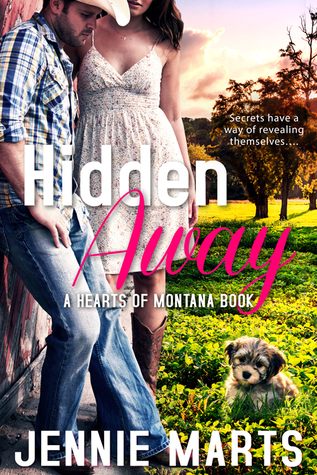 Johnson and Cherry Hill were high school sweethearts until he enlisted with the military and left town, breaking her heart in the process. Now though, he's back and Cherry knows she should keep her distance, especially with the secret she's kept from him. However, a single phone call changes everything for Cherry, when she finds herself the sole guardian of her eight-year-old nephew, Sam.
Broken-hearted and distraught, Cherry knew she had nothing to offer a child. No money, no future, not even a home where she could take care of it. Wanting desperately to do what was right for the baby, she made the ultimate sacrifice for the wellbeing of the baby and agreed to her grandmother's plan.
Right from the beginning, this book was compelling, as it comprises the second chance romance and fake relationship tropes, a heroine determined to take care of an eight-year-old boy while endeavoring to protect her secret, and a hero looking to earn the heroine's forgiveness. It was fast-paced and immediately drew me in by what happens to the diner, which is Cherry's only source of income; and the phone call the heroine receives that leaves her devastated.
Strong and well-written dialogue made for easy reading, and I enjoyed learning all about Cherry and Taylor's past history. Especially since there were questions that arose, which I desperately wanted answers to. Such as why did Taylor leave to join the military when they seemed so much in love? Why didn't Cherry ever reveal her secret to him? As the story progresses, it seems Taylor has a lot to make up for, if only he can prove to Cherry that this time around things will be different. That he won't abandon her, even when he learns her secret.
Stacy appointed me the guardian of Sam, and that means I make the decisions about his welfare and that he will be coming home with me. You're welcome to file any kind of paperwork you want, but right now, I am his guardian, and I am going in to see him. And if you try to stop me, I will literally punch you in the throat."
I loved both main characters. Cherry has had some tough times in her life, especially having to make the difficult decision that she did soon after Taylor left her. Yet, she's determined to prove she can be a good mother for Sam, despite the fact that she doesn't have much to offer. She's still struggling with a way to support herself, let alone a kid, as her family seems to keep reminding her. But what I liked most about Cherry was how she didn't allow her family's spitefulness to affect her – at least not for long – and the moment where Cherry threatens members of her family had me cheering. She really needed to show everyone that it wouldn't be easy, for them to try to take custody of Sam away from her.
While Taylor, I liked how noble he was and that he would do anything to help Cherry and Sam. He's also very protective, and proves that when Cherry's family decide to make things difficult for her. But what I liked most about Taylor was that even though he disappointed Cherry after discovering her secret, he more than made up for the way he reacted to the news. By aiding the heroine in making sure that there was no way other members of her family could take Sam away from her.
He grinned. "Okay, it's a deal. I will sometimes let you drive."
She smiled and squeezed his hand. "And sometimes you'll let me play with the siren."
He laughed and gave her a naughty grin. "Babe, you can play with whatever you want."
She let loose a hearty laugh, and it was music to his ears.
Ms. Marts has penned a wonderful second chance romance story with hot sex scenes that illustrate this couple's intense chemistry nicely. Both have thought about the other over the years, which is palpable through the dialogue. Taylor realizes he made a mistake leaving Cherry in the past, and he wants her back in his life permanently. No way does he want to lose her a second time, especially after an incident that could have easily resulted in Cherry or Sam being hurt, if the hero hadn't used his skills as sheriff to diffuse the situation.
Overall, I absolutely loved this story where the secondary characters definitely help with their advice and kindness. Cherry's friend, Charlie, is really good at helping her put things into perspective; giving her a chance to talk about her fear of Taylor abandoning her again if she gives him another chance. While Taylor's dad is really good with Sam in the way he always seems to know what to say to him. I would recommend Hidden Away by Jennie Marts, if you enjoy second chance romances, small town romances or the fake relationship trope.
Book Info:

Publication: November 16th, 2015 | Entangled Publishing | Hearts of Montana #2
Secrets have a way of revealing themselves….
Right after a fire breaks out in her diner, a phone call changes Cherry Hill's life. The tragic death of her cousin leaves Cherry sole guardian of her eight-year-old nephew. But the upper crust side of the Hill family deems her unfit and is determined to take Sam away from her. The only one on her side is the sexy sheriff, Taylor Johnson, the man who broke her heart nine years ago when he left town.
Taylor Johnson has sworn to protect the citizens of Broken Falls, but should that extend to a fake engagement to the woman who captured his heart so long ago? It doesn't take long for his pretend feelings to turn real for both Cherry and her adorable nephew, Sam.
But Cherry's been hiding a secret from Taylor that could rip this new family apart…