In Highland Treasure (Highland Brides #9) by Lynsay Sands , Elysande "Ellie" de Valance's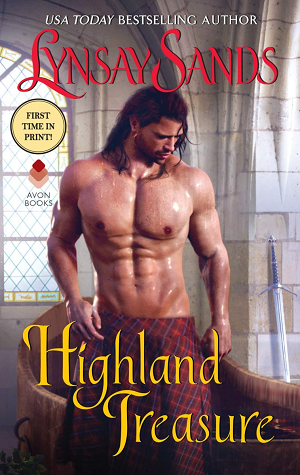 English castle home used to be filled with laughter, family, and locals she called friends. But after a brutal attack, she finds herself one of the few survivors–who is now on the run to the Scottish Highlands to find safety. Ellie was worried about traveling with Scots who are family friends but still unknown to her. But Rory Buchanan, a renowned healer, appears to be the leader of their group and proves to be every bit as rugged and intelligent as Ellie's heard the Buchanans are. And he certainly is handsome and charming as well. As her time on the run is filled with healing her body and mind, she wonders if there might be room for a breathtaking Scot in her grieving heart.
'But these Scots… There was something strong and wild about them that made her feel that they would stand firm in the face of any challenge and see her safely through it.'
While on a mission to heal a sick lord in England, Rory receives a message to take the de Valance's treasure safely to their family in Scotland. He didn't realize it wasn't precious art, jewels or money he would be guarding, but a lovely lass who has just survived tragedy the likes of which would cripple most grown men. But Elysande's bravery and keen instincts amaze Rory. Her inner beauty and strength is every bit as enticing as her outer beauty, something he shouldn't even be considering on the heels of her recent loss. But the longer he's in Ellie's company the more Rory is certain she's the woman who is a match for him in every way. When they finally make it to Scotland in one piece, he plans to offer her a future he hopes is filled with love, laughter, and fulfilling all of her wishes.
'Nay, it was definitely something other than her looks he was attracted to.
…He admired her for her courage. She was so damned brave, and showed a quiet strength that was truly impressive.'
Highland Treasure completely swept me up with its exciting plot and wonderful cast of characters right from the first page. Lynsay Sands outdid herself with this latest installment in her Highland Brides series which was all about fan favorite (and mine!!) Rory Buchanan.
He then kissed the top of her head and said, "Thank God yer mother sent ye to me. She called ye her treasure, and she was right. Fer that's what ye are to me."
Trigger warning: View Spoiler »Murder, torture, suicide. « Hide Spoiler
I've been waiting for the day that healer Rory Buchanan finally got his own book. And Highland Treasure definitely did not disappoint. I can honestly say that I didn't want to put my kindle down for a minute, I was so wrapped up in the story. I will warn that the first couple of chapters will not be easy to get through for some readers (see the trigger warning) but it was a very dramatic way to start things off and set the tone for what our heroine Elysande endured for the rest of the book. Talk about strong! She wowed me–and Rory and his men–with her courage and the sheer fortitude it took to carry on after what she went through physically and emotionally. *sob*
Rory was just as caring, supportive, and steadfast as I had imagined from the time we've spent with him in previous books. (Although you can read this as a standalone) I never really thought about how he was just as capable of fighting and protecting as his brothers, being that he's a healer…not necessarily a fighter. But Rory was a Scot through and through. And it turns out that not only did Elysande bring out the protector in him, she desperately needed his help making it to safety in Scotland so he had the chance to prove himself worthy of her subsequent attention.
There was a fairly large, awesome secondary cast in this novel–including an entire English town!–and quite a few plot twists that kept me guessing, which was great. As with all of Sands' work, the quirkiness of the characters added a punch of humor and lightheartedness to what could have been a very dark story. But instead it was a nice mash up of fun moments and poignant ones.
With its compelling storyline and slow burn romance, Highland Treasure was a thrilling, heartfelt foray back to England and the Scottish Highlands with the Buchanan family. Definitely recommended.
Book Info:

Publication: Published January 26th 2021 | Avon | Highland Brides #9
A Buchanan brother finds a love to treasure in this scintillating historical romance from New York Times bestselling author Lynsay Sands…
After escaping from the English soldiers who attacked her home and imprisoned her in a dungeon, Lady Elysande de Valance is grateful for the rugged Scots who are escorting her to safety in the Highlands. Even with danger dogging their every step, she hadn't expected to welcome the strong comforting embrace of their leader, Rory Buchanan. They say he's a healer, but she finds the heat of his touch does so much more…
Let his brothers get married—Rory is too busy tending to the sick to be bothered with wooing a bride. But when he is tasked with accompanying a family friend's "treasure" to the Highlands, he is surprised to learn the treasure is a beautiful woman on the run—and even more surprised to discover bruises hidden by her veil. Rory makes it his mission to tend to her injuries and protect her, but the thought of losing her makes him realize that perhaps it is his heart that is most in need of healing…