Hired by the Unexpected Billionaire by Susan Meier is the third book in the wonderful Missing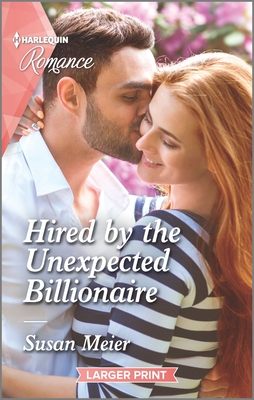 Manhattan Heirs series. The book can be read as stand-alone but reading them all helps to complete the entire story. The book was well written, fast-paced, and easy to read. The series is about Mark Hinton, a scandalous billionaire who faked his death, revealed the identity of his three unknown children to the world, and created a media sensation.
Danny Manelli's life has just been turned upside down! He just discovered he had an unknown son and that he was adopted. The thought of being successful due to Mark and not from all his hard work lowered his self-confidence. While discovering he was adopted by his parents shook his ability to trust others. His plans for his life had been derailed and he wasn't sure how to get back on track. Hiring a nanny for Rex, his son, was necessary, but hiring Marnie a woman he was attracted to gave him more doubts. She was great with Rex and helped him feel like his life was settling down again. He tried to keep their relationship professional, but them living and working together complicated things.
Marnie Olsen was the daughter of a wealthy real estate tycoon, but he had deserted her and her mom when she was a teenager. She was hiding from her past and had worked hard to get her degree. She had a dream of starting a unique nanny service once she saved enough money. The fear of her past caused her to doubt the wisdom of taking the position with Danny, but the pay was more than normal and would allow her to save more for her dream. She assumed she could stay in the background away from any publicity as a nanny. She knew that getting involved with Danny was a bad idea and would put her in the spotlight but their chemistry was too hard to ignore. He tried to persuade her to face her past but she was terrified of going through it all again.
I enjoyed reading this series. The characters were charming and realistic. Danny and his sisters wanted to live an ordinary life away from the media after their identity is revealed, but their lives had changed and they had to find a new "normal". After seeing the way Marnie's childhood had been growing up in the spotlight of the media, he realized that Mark had wanted his children to grow up as normal children and not worry about the news media. Marnia helped him understand Mark wasn't trying to take the place of his adopted parents, he only wanted to be part of his children's and their extended families' lives.

Book Info:

Publication: August 1st 2020 | Harlequin Romance | The Missing Manhattan Heirs Book 3
He could be her future…
…if she can escape her past.
Danny Manelli's world turns upside down when he discovers he's the heir of a scandal-plagued billionaire—and that he has a son of his own! Danny needs a nanny fast! And Marnie Olsen is perfect—she soothes little Jax and calms Danny's soul! The more they share, the closer they get—until a secret from Marnie's past threatens to destroy everything…