In Man Down (Rookie Rebels #3) by Kate Meader, Hockey player Gunnar Bond once had it all: a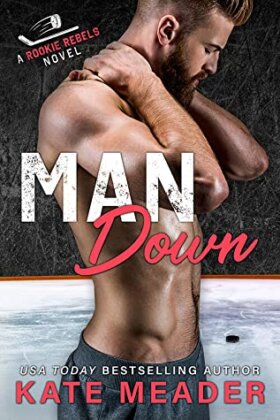 successful career, a wonderful marriage, and two beautiful children–twins, no less. But a horrific car accident ripped his life apart. Losing his wife, his twins, letting go of his career, Gunnar holes himself away in the middle of nowhere, content to live in solitude. Then he starts texting his late wife's phone with memories and things he'd like to say to her. And it helps. Well, as much as anything can. But one day Gunnar receives a text back. His anger at the number being recycled soon fades away when the person responding seems to understand him–and makes him laugh. Something he hasn't done in three years. But that in itself is a problem given that Gunnar isn't ready to let go of his grief quite yet.
'For the last three years he'd lived in a world where everyone knew his business and here was someone oblivious to that, who had no idea that he was Gunnar Bond, tragic hockey player.'
Sadie Yates has a lot to get done in a short amount of time. She somehow has to convince her half sister Lauren, a twelve-year-old bundle of attitude, into moving from Chicago to LA. And to pack up an entire house. It would be easier if they knew each other well. But with their father now in jail, and being Lauren's new guardian, Sadie has no other choice considering her job and home is back in California. The one bright spot in her world lately has been her texts back and forth with a grieving widower. Which sounds weird. But Sadie cherishes the fact that he trusts her with his thoughts and for her to be able to cheer him up with a laugh or two. She's questioning if she should ask him to meet now that she's in his city. But before she can do that, Sadie is knocked flat–and ticked off–by hockey player Gunnar. And that just adds a whole other layer to an already complicated situation.
"I haven't been attracted to anyone since my wife died. I haven't wanted to even think about that, but with you, it's burning through my veins. A buzz of need that's almost…painful."
She couldn't breathe. These words, their naked honesty toppled her.
Oh, my heart! Kate Meader outdid herself with the newest Rookie Rebels novel, Man Down. It explored the depths of grief, the joy of new connections, the guilt of moving on after loss, family dramatics, and everything in between.
'She had inherited his wife's phone number… What forces had aligned–or misaligned–to produce this crazy coincidence?'
I adore Kate Meader's writing style. How she can pull so many emotions into each scene seamlessly and truly make you feel the same things the characters are feeling. In Gunnar Bond's case, it might honestly be a bit much for some sensitive readers. Because even knowing he would likely relive the tragic loss of his wife and twins, I was absolutely gutted emotionally in those flashback scenes/dreams. *sob* But I felt like it was important for Meader to give us some of those details so readers would know exactly why Gunnar was having such a tough time moving on and letting go of his grief and guilt.
Sadie–who I thought was absolutely adorable–was also in the midst of a family crisis. Her father had embezzled money and was sentenced to some jail time, leaving her to take care of her surly twelve-year-old half sister Lauren. Sadie hadn't spent time with her since Lauren was a baby so it was tough going for them. I think they were both painted in a realistic light. Sadie made mistakes but she kept her head high and trudged on, trying to make a connection with Lauren, who fought it the whole way. It was funny, tender, a bit sad at times, but the struggle is something I think most of us can understand.
And when it came to Gunnar and Sadie? Whew. Talk about complicated. They started off with that awkward texting after his wife's phone number was recycled, but it swiftly turned into a friendship of sorts. And then morphed into a bit of (mostly) innocent flirting over the following months. When Sadie and Gunnar met in real life was when it all went skiwippy. There was animosity after a meet-cute that went awry. And then that word most men dread: feelings, started creeping in. I got why Gunnar was so adamant about keeping his heart out of the game, but boy was he stubborn. And Sadie thankfully called him on it when the need came up but was also the kind, compassionate person he needed most of all. Sigh…
Go ahead and grab your Kleenex for this one. Man Down will likely rip your heart to shreds a couple of times, but don't worry. It wasn't all heavy and somber. Kate Meader will also have you swooning and laughing over the antics of Sadie, Gunnar, and previous Rebels cast members we got to catch up with.
Book Info:

Publication: July 28th 2020 | Pub. Kate Meader LLC | Rookie Rebels #3
I've been texting the wife I lost, the woman I loved beyond measure … Now someone else has answered back.
Gunnar Bond is broken.
Three years ago, he lived through the car crash that took his wife and twins away from him—though "lived" barely describes his current state. Giving up professional hockey, going off grid, and drinking himself into oblivion are his coping mechanisms. Another is texting his dead wife about his days without her. Therapeutic? Doubtful. Crazy? Definitely. But those messages into the ether are virtually the only thing stopping him from spiraling to even darker places.
Until someone texts back …
Sadie Yates is losing it.
Suddenly guardian to a little sister she doesn't know and a misbehaving hound she'd rather not know at all, she's had to upend her (sort of) glamorous life in LA and move back to Chicago. The nanny has quit, the money's running out, and her job is on the line. The last thing she needs is her sister's hockey camp counselor, a judgmental Viking type, telling her she sucks at this parenting lark. Thank the goddess for her sweet, sensitive, and—fingers crossed—sexy text buddy who always knows the right thing to say. In the same city at last, they can finally see if their online chemistry is mirrored in real life. She just needs to set up a meeting …
A ruined man who claims to have used up all his love is surely a bad bet, but Sadie's never been afraid of a challenge … even one that might shatter her heart into a million pieces.