In His Baby Dream by Jacqueline Diamond, Peter Gladstone has not given up his dream of being a father, even after he lost his beloved wife two years before. But he doesn't want another woman in his life, he only wants children, so he will create his family thanks to a donor egg and a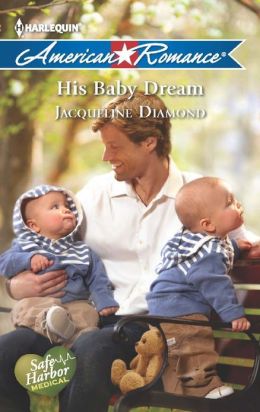 surrogate mom with the help of the fertility specialists at Safe Harbor Medical.
Harper Anthony is new on the egg donor website and she seems like the perfect choice. He can see his kids as a slightly different version than Mia, Harper's daughter. But he does not want the egg donor to try and claim his children in the future, so he wants everything to be done anonymously.
The more time he spends with Harper and Mia, Peter cannot help but feel that he should be honest with her. And when the truth comes out she has every right to back out if she wishes. But he cannot see his child to be biologically linked to any other woman than Harper.
With Harper and him working on a book together and him being Mia's coach at camp, they cannot help spending so much time together. But the true question is can he finally let go of his wife and give a chance at having a family with Harper and Mia, or will his belief of marriage until death mean that he will not give a chance at a life with a full family.
For a sweet romance that will entertain you and make you laugh with a sweet and charming little girl, His Baby Dream by Jacqueline Diamond is a great choice.
Book Info
Publication Date: June 4, 2013 | Series: Harlequin American Romance (Book 1454)
Determined to Be a DadBiology teacher Peter Gladstone may have lost his beloved wife, but the tragedy only strengthened his resolve to create a family. With a donor egg and a surrogate mom, Peter is sure to be a proud papa soon, thanks to the fertility specialists at Safe Harbor Medical.Harper Anthony seems like the perfect choice for the donor. She's smart, beautiful and a great mom to her young daughter. The problem is, Peter has recently become reacquainted with the young widow and now sees her as a friend—or maybe something more than a friend. And Peter has chosen to keep his identity a secret. If the truth comes out, the consequences may threaten their budding romance. But only the truth can turn them into a family….