In The Love Deception by Jennifer St George, Felicity Carter woke up one morning in a strange house, in a strange bed, naked! Not remembering how exactly she got there, or what had happened, she tries to sneak out of the house, when a handsome man in swim trunks meets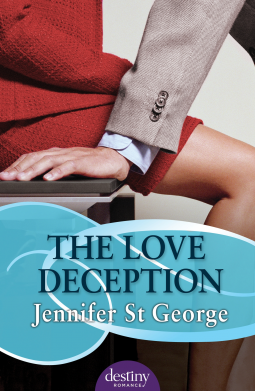 her in the hall, offering her breakfast and money. Embarrassed and thinking that worst, she runs from the house hoping to never see him again. Little does she know that he is none other than Damon Fullbright, senior partner in the law firm she has just been hired at.
Damon, is shocked to see Felicity again. Thinking that she has a problem with Drugs and Alcohol he is not in support of hiring her. Damon has been in this position before with his ex-wife, and even though he is interested in Felicity, he is afraid that he might be heading for disaster. Out numbered he agrees, but promises her that he will be watching. As Damon and Felicity work through their misunderstandings, and begin to work together on cases they start to get a better understanding of each other. But Felicity became a lawyer to help save her father from spending the rest of his life in prison and she is hiding a secret from Damon and the firm. How will Damon react when the truth about who she really is comes to light? It might surprise you.
I loved Felicity's character! She really makes you stop and think what would you do to save the person that you love? Anything! And Damon tries so hard to fight his fellings for Felicity, but time and time again, they keep getting caught in situations that demand that they stop and face the feelings that they are both so frightened of. The ending was so sweet and touching. I was crying and cheering. I would recommend this book and I hope that you will enjoy this one as much as I did.
Book Info
Penguin Books Australia, Destiny Romance. Pub Date   
When Felicity Carter wakes up naked in a strange bed, she has no idea how she got there. And no recollection of meeting the gorgeous man calmly offering her breakfast. Shocked and embarrassed, Felicity flees – hoping that their paths never cross again.
The last thing she expects is to discover that her mystery man is Damon Fullbright, partner at the law firm where Felicity has just started work – and her new boss! Damon is appalled to find the young woman he rescued has been hired to work on his team. Apart from anything else, he doesn't need the distraction.
Despite their early misconceptions, their appreciation for each other – both personally and professionally – begins to grow. But when Damon discovers what Felicity's been hiding, how will he ever trust her again?
A gripping romance that combines courtroom intrigue with a dash of Barbados, The Love Deception is the latest book from Jennifer St George