In His Forever Valentine by Marie Ferrarella, Valentine Jones is a location scout, and she has just found the perfect place for the next movie to be filmed. It fits the script to the letter without having to change anything. Now she just needs to convince the owners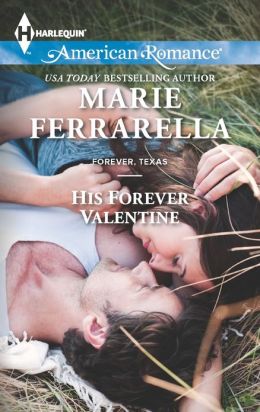 to rent them the ranch for filming.
Rafe Rodriguez has just admitted to himself that he is little envious of his brother's happiness. What he doesn't expect is that on the heels of that feeling as he is on his way to find a place where the fence line is broken, he finds himself saving a trespasser from a charging bull or the impact she has on him as he lays his eyes on her. Now Rafe knows that he has to find a way to keep her in town in order to see where things may lead. But the only way for that to happen is if he can help her convince his family and the town to let them use the ranch and the town for filming.
Val likes being a location scout, that way she won't remain in one place for long and she won't risk getting attached to anyone and getting hurt again. But Rafe alone immediately holds her attention, regardless of how handsome all of his siblings are. To the point that she finds herself planning to stay for the entire duration of filming.
The more time that Rafe and Val spend together, the surer Rafe becomes that he wants Val to be in his for life. But he believes that she won't want to leave her Hollywood lifestyle for the little town. And as she starts to go cold on him he believes that he was right, until his brother Mike confronts him and he has to look at what he was also just giving up in his pride, without looking at what was going on with her fears and vulnerabilities.
A fun, sweet and very entertaining read, His Forever Valentine by Marie Ferrarella will keep you entertained with all the wonderful and fun characters that you will not be able to wait to read more about.
Book Info

Publication Date: August 6, 2013 | Series: Harlequin American Romance (Book 1462)
A Real Cowboy. A Real Home?
Rafe Rodriguez never reckoned on playing hero to a beautiful, big-city stranger. But when he saves Valentine Jones from a charging bull, this Rodriguez brother's fate is all but sealed. The Hollywood photographer is on location in Forever to scout out an authentic dude ranch. And nothing could feel more real—or right—than the fiery feelings Val's awakening in Rafe. And he knows just how their real-life romance should end!
Haunted by tragedy, Val knows life isn't like the movies. Still, a girl could get used to having a sexy protector like Rafe around. The Texas rancher is wreaking havoc with her credo of never settling in one place. Is Val headed for heartbreak again? Or has she finally found a place to belong with this cowboy who's starting to make her believe in forever?