Book number two in the latest Westmoreland trilogy, Canyon by Brenda Jackson, will sweep you off of your feet and keep you enthralled. Full of sigh-worthy romance with a little suspense thrown in the mix makes this book difficult to put down. Brenda Jackson is the queen of seduction!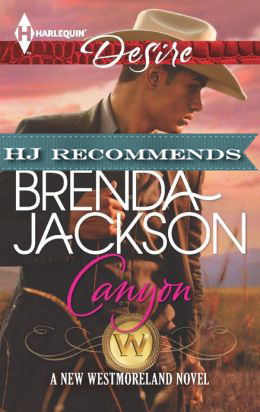 Canyon Westmoreland is fed up with being ignored by his former lover Keisha Ashford. He has decided that he must follow her home from work so that he can try to prove to her that he still has feelings for her. He's in for a surprise when he realizes that someone else has decided to tail her as well. When it becomes apparent that Keisha may be in peril, Canyon forces the other driver off of the road.
Keisha thinks that the ruckus behind her is just a case of two people suffering from road rage, so she isn't concerned that she may be in jeopardy. Continuing to follow her, Canyon is surprised when Keisha pulls into a daycare center, so he decides to wait while she goes inside. When she comes out of the building with a little boy in tow, Canyon is struck by how much the toddler looks like his nephew. With a lump in his throat, he realizes that the youngster must certainly be his son.
Canyon jumps out of his car to confront Keisha and he comes face to face with his son. While Keisha is surprised to see Canyon, she doesn't deny that the child is his. After some conversation Canyon follows Keisha home to become better acquainted with his son. When they arrive at Keisha's apartment they find the place in a shambles. Someone has broken into Keisha's house and has left quite a mess.
One thing is for certain, Canyon will do anything in his power to keep Keisha and his son safe from harm, so he insists that they must come stay with him until they can figure out who is after Keisha and get them off of the streets. It doesn't take long for Keisha and Canyon to realize that there is still a lot of chemistry between them. But Keisha is convinced that Canyon was unfaithful to her when they were previously a couple and she doesn't trust him. Will Canyon be able to prove that he never strayed in their former relationship? Will he be able to keep Keisha and his child from an unknown stalker?
Brenda Jackson has written another exciting Westmoreland tale. Her characters come to life with brilliant detail. I really enjoyed the element of intrigue that was added to the story and it kept me guessing until the end. I am really looking forward to reading Stern's story next. If you're looking for a blistering hot romance with a twist, be sure to give Canyon a try. Brenda Jackson really delivers the goods!
Book Info

Publication Date: August 6, 2013 | Series: Harlequin Desire (Book 2245)
From 
New York Times
 bestselling author Brenda Jackson comes a new trilogy starring three Westmorelands…
Years ago, Canyon Westmoreland let misunderstandings come between him and Keisha Ashford. But when Keisha returns to town with a two-year-old son, it's time to settle things once and for all. A blazing attraction still burns between them, and this time around, nothing will stop Canyon from claiming what is his—his woman and his child!