His Greek Wedding Night Debt by Michelle Smart They say revenge is a dish best served cold, what they don't tell you is that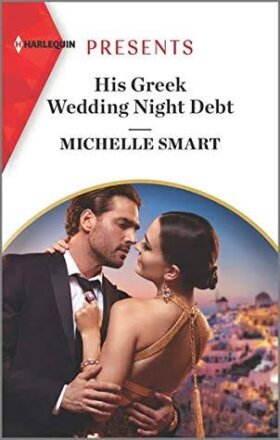 sometime getting to that much desired revenge there is a hell of a lot of steam. After having his heart broken the day before his wedding Theo wants retribution against his former fiancée Helena. With much plotting and planning Theo devises a plan on how to get Helena back into his life so he can get his revenge. While they were still together they had dreamed up their dream Greek mansion home, using this and the fact that Helena is an architect Theo puts his plan into motion, hiring her to build this beautiful home. Having her back on his island he plans to be his charming self, getting her to fall in love with him all over again and then when she least expects it he will break her heart, the same way she did his.
"I wasn't ready for you and I definitely wasn't ready for the love I felt for you."
To say Helena is shocked to see Theo back in her life is by far an understatement. She had left hi. At the alter those years ago not because she did not love him, but because he reminded her of her father. A domineering man, who treated her mother and other females with harsh control and arrogance. With her company battling financially, Helena can not turn this job down, all she can do is bury her feelings for Theo and keep her focus on building their perfect home, only this time it will only be for Theo.
"Your control-freakery doesn't frighten me any more either. I know you love me as much as I love you. I know you're as greedy for me as I am for you. I know what we have is special. We belong together and I know we will both move heaven and earth to make it work."
As the two find themselves back in close quarters, they both have to deal with a tug of war of sorts where Helena is determined to stay focused on her work and get the hell of the island as fast as possible, where as Theo has kicked his charm up a gear and is more determined then ever to woo Helena and get her to take time of and enjoy time on the island. As their time together progresses Theo realises his plan is working but there is one flaw in all of this he finds himself starting to fall in love with Helena all over again. Theo is not the only one having these realizations, Helena starts to realize that just maybe she painted Theo in the wrong light and that he has always been a good guy.
I really enjoyed this second chance romance, it was rather fast pace but it worked with the storyline. Both Theo and Helena were great characters however I found that Helena was rather negative and her reasons for leaving Theo were all together her own fault. Where as Theo was a delight, he was charming, funny and sweet, you can actually see that he truly loves Helena. I loved the way it tied up in the ending, even when Helena found out about Theo's plan I found he did a good job at winning her back.
All in all I enjoyed His Greek Wedding Night Debt, this was a cute second chance romance.
Book Info:

Publication: April 1st 2020 | Harlequin Presents |
She owes him a wedding night…
He'll collect it in Greece!
It's heart-stopping for architect Helena to learn that her mystery client is Theo Nikolaidis—her ex-fiancé! Unwilling to sacrifice her hard-fought independence, she ended their engagement, but memories of their passion were harder to leave behind…
Theo has one goal: seeking vengeance on his runaway bride! Yet their return to the Greek island they had planned to call home complicates everything. Theo can't escape their past…or the intense connection that spectacularly reignites! Will this tycoon be tempted to rewrite the rules of his revenge?