His Last Chance At Redemption by Michelle Conder  is a very passionate and emotional story.
Lexi Somers is the co-owner of the day-care center where Ty Weston has been taken care of since he was 1 year old. She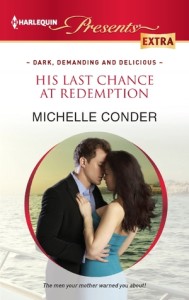 has a big connection to Ty, even though she knows that she should not have favorites in the center.
Leo Aleksandrov is used to always getting his way in everything. So when he is forced to take care of his child, whom hehas never laid eyes on, he is surprised by Lexi who will stand up to him and not release Ty to his care until she has proof that he is indeed entitled to take the child from the child-care center.
After a tough childhood, Leo has taught himself not to feel or get attached to anyone. But Lexi seems to bring emotions out of him that he does not expect.
While Leo and Lexi both suffered in some way from family problems while still children, their outlooks on life are very different, as well as their approach to it.
If you like a story with good passionate scenes, as well as some emotionally moving ones, then this story is for you.
Rating: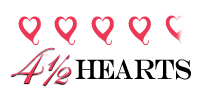 Publisher: Harlequin (November 27, 2012)
His final undoing…
Leo Aleksandrov is used to being obeyed—a perk of his coldhearted ruthlessness. Having to explain to an enticingly pure day-care owner exactly why he's never met his own son? Not how he likes to operate. There are some secrets so dark they should never be told….
Employing Lexi Somers as a stand-in nanny pushes this merciless tycoon to the edge. Her warm innocence could never even start to atone for the sins of his past, but if giving in to temptation is inevitable, blazing pleasure is the only thing he'll allow himself to feel in her arms….