His Lost and Found Family by Sarah M. Anderson: It only takes one moment for two years to be wiped away, for lives to change and for the future to take shape.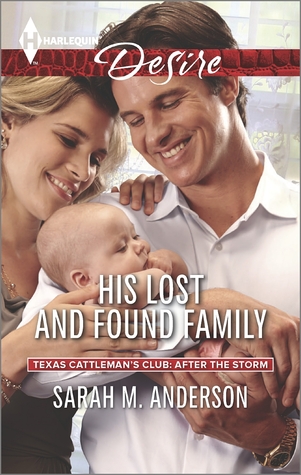 Skye Taylor Holt awoke confused and disoriented. She couldn't seem to remember a thing and what was worse was that she just wanted Jake and no one could seem to help her find him. It was a nightmare, a true living nightmare. She was now a mom to a beautiful premature little girl, had lived through a tornado, was in a medicated coma and now trying to remember and praying to get out of the hospital.
Jake Holt couldn't believe what he was seeing, the town he had grown up in was gone, decimated by the tornado he had just learned about. Had Skye been here? Where was she, all he knew after being gone for ten months was that he wanted her back, he was still in love with her regardless of that last fight. He had to find her.
What Jake didn't expect was to find her in the hospital and to learn he had a daughter. When he found out that she had lost two years of her memory, he couldn't decide if it was a blessing or a curse. Then he realized he had to prove to her that he was the man she needed, the man she fell in love with. When the memories start to come back though what would she take away, the man he had been or the one he was now?
Back to Royal, TX is where readers are transported to in this novel. This is one in a series but can be read as a stand-alone. The fun part about this series is that it is written by different authors in different styles. Ms. Anderson has a word concise style in many ways and makes each word count. There isn't a ton of fluff in this work and everything has a meaning towards her plot. The story arc with amnesia is a relatively common one but she takes it to another level with the depth of feeling and emotion that she gives Skye.
His Lost and Found Family by Sarah M. Anderson is a great read for anyone interested in amnesia story lines or that love quick great second chance romances.

Book Info:

Publication: February 3rd 2015 by Harlequin Desire Series #2354
A secret baby brings ex-lovers together in this tale of lost memories and second chances
Getting hit with divorce papers isn't the fresh beginning Jake Holt wanted with Skye Taylor. But when he returns to their Texas hometown, he finds Skye has a child and no memory of the couple's painful breakup.
After a long coma, Skye doesn't remember being swept up in a tornado or nearly losing her baby girl. Seeing Jake again rekindles their all-consuming passion. Then she starts to remember… Is their love strong enough to overcome the past so they can become a real family?