His Marriage Demand by Yahrah St. John: Revenge is a dish best served cold, NOT with the heat of a passion set simmering for years.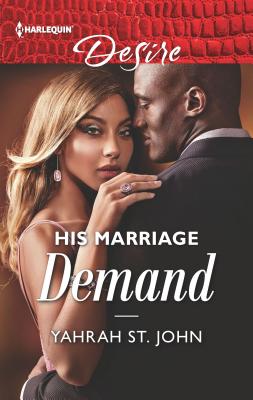 Fallon Stewart knew she had done a horrible thing at the age of 16, she knew better then to. The problem was she had no idea how to fix it then or fix it now. She also never realized it would come back to haunt her like it has done. When she needs help the most is it really her worst mistake, her biggest heartache that can be her savoir?
Gage Campbell was no one's angel, least of all the woman who changed his course in life. What he was going to do though was get his revenge and warm his bed, keeping his heart locked up tight. However best laid plans and all of that? Was his mama going to be right again?
Fallon and Gage had a lot of growing up to do in their years apart but it looks like they had a lot more to do in their allotted 7 months and perhaps more?
Wow. This is the second book in a trilogy but can be read as a stand-alone without missing much. Ms. St. John has really done some amazing work creating the Stewart family and some impressive depth of characters. While it would be nice to have a better idea of some of the reasoning Fallon had Ms. St. John has given enough clues to her thoughts that the reader is able to imagine what is not spelled out. She has also given the reader a measured dose of heat, this isn't something that is too hot, but still warm enough to help keep you warm. Overall a good read with a few twists that you might not see coming.
Book Info:

Publication: Published August 6th 2019 | Harlequin Desire |
He's waited patiently for payback.
It arrives on his wedding day.
Gage Campbell has Fallon Stewart right where he wants her. Ever since his mother was fired for Fallon's teen antics, Gage has held a grudge. Now the roles are reversed. Gage got rich, and Fallon is desperate to save her family's company. He'll gladly step up. But Fallon must become his bride. The danger? Losing himself in the woman…and forgetting the revenge!