In Black Sheep (Dirty Mafia Duet #1) by Meghan March, Growing up knowing that you're the son of a mob boss–who has never publicly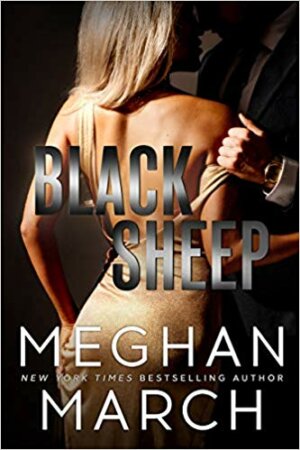 claimed you as his own blood–is a strange thing. Particularly for Cannon Freeman. He's always had to prove his loyalty to his father, Dominic Casso, without somehow actually being part of the darker side of things. So when his new hire at the upscale cigar club, a legit business he runs, catches his eye, making him want to break his rule about dating employees, Cannon knows Drew Carson is going to be trouble in his life. He just didn't understand how much of an issue she would cause.
'My life isn't built for attachments. It's built for discretion. Anyone who becomes close to me automatically enters the potential line of fire, whether I want to admit it or not.'
Between the fact that Cannon's pretty sure Drew is hiding something from him, and that his father is a bit too interested in Cannon's relationship with Drew, it's only a matter of time until his world implodes. And it seems like it won't take very long before Drew finds herself ready to fess up to the real reason she's working at Cannon's club–and the ties it has to a recent tragedy. As she recognizes the innate goodness in him, making her rethink her entire view on his involvement in the Casso family's dirty dealings, Drew will somehow have to keep herself and Cannon out of harm's way. Which is easier said than done, thanks to the precarious position she forced them into.
"There's nothing stopping you from having me now," I whisper, because it's the absolute truth.
But for some reason, his gaze darkens. "There are a million things that should stop me, but not a goddamned one will. I staked my claim. I mean it. You are *mine*."
A smexy heroine with her own agenda and a handsome bad boy alpha with a good heart was our dynamic duo in Black Sheep, Meghan March's newest explosive romance. A *mafia* romance, no less!
'This man is special. It isn't his fault he was born the bastard son of a mob boss. He can still be a good man. Right?'
Meghan March writes some of the most decadent romances today, with heroines you want to befriend and heroes you want to lick–er, get to know much, much better. (lol) And wow didn't Cannon and Drew make a sizzling couple. Their attraction was intense, but acting on it was not a good idea for them, due to her working for him and where he was a mob boss's son, which made her a target. (As a side note: this has a tie-in to Dirty Billionaire, with Cannon playing a big role in that book's hero, Creighton Karas's, life.) I loved how much Drew and Cannon tried to ignore the sparks between them. It meant more tension, more lively bantering, and of course when they *did* give in to it, the love scenes were off the charts hot. But what else would you expect from March, right?
As with a lot of March's work, I have to tread carefully here so as not to give away all the exciting tidbits we learned along the way. I can say that as Drew's backstory was revealed, her resiliency and her reason for putting herself in harm's way became more clear. And more heartbreaking. The same goes for Cannon. His past was not an easy one but he was a strong, extremely smart, resourceful guy who knew himself and where he stood with his father. Admittedly, both Drew and Cannon made some decisions that might not have been my first choice, but they went with their gut so I couldn't fault them for it. I do need to mention that Black Sheep did end with a clliffhanger where this is part one of two (it's a duet). But book two will be out in about a month, so there's not long to wait, thankfully.
Black Sheep was a sinfully good forbidden romance with a fast-moving plot that will have readers addicted immediately. Definitely recommended.
Book Info:

Publication: August 27th 2019 | Pub: Meghan March LLC | Dirty Mafia Duet #1
From New York Times bestselling author Meghan March comes a story of untold truths and one man's redemption in the Dirty Mafia Duet.
Every family has a black sheep.
In the infamous Casso crime family, that black sheep is me—Cannon Freeman.
Except I'm not a free man. I've never been free. Not since the day I was born.
I owe my loyalty to my father, Dominic Casso, even if he won't publicly acknowledge me as his blood.
I've never had a reason to go against his wishes… until I met her.
Drew Carson turned my world upside when she walked into my club looking for a job.
Now, my honor and my life are on the line.
Going against my father's wishes might buy me a bullet straight from his gun, but black sheep or not, it's time to make my stand.
She's worth the fallout.