His Mistletoe Proposal by McKellen Christy: Out of sadness can come the happiest periods of your life, but only if you let them in and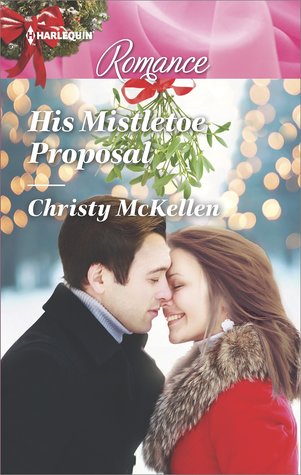 embrace them.
Flora Morgan was used to doing all she could do to make people happy. Yes this request may have seemed a little odd, but it was from her best friend. It's just her best friend had just passed away. Flora was determined though and she was going to help make sure her best friend's twin brother was taken care of and happy.
Alex Trevelyan wasn't sure what he was going to do. His twin sister had just passed away, his girlfriend chose someone else and now his best friend's sister shows up and wants to be "friends" what does that even mean? How was he going to be able to deal with that?
Thanks to promises that both Alex and Flora made to a dead woman they were bound together for a while, at least until they found happiness, right? But in the quest to help each other find their desires they were thrown together in all sorts of ways. Could they keep the focus on the other and ignore their own desires?
Ms. McKellen has given her readers a wonderful Christmas read. The ability she has to transport her readers in a world of her creation is wondrous. Though there isn't much attention to the scenery she is able to bring to life her characters by the attention she gives to them. Their feelings jump off the page and breathe into the readers souls. This is a hard read in that it does deal with grief, but it is an amazingly emotional read with a HEA. You won't want to miss it.

Book Info:

Publication: November 1st 2017 | Harlequin Romance |
A diamond for Christmas
Flora Morgan is determined to honor her best friend's dying wish, even if it means relocating to England and accepting the challenge to try to fix Alex Trevelyan's broken heart.
Except brooding musician Alex, her best friend's brother, isn't interested in Flora's help. She may be beautiful, but he's no charity case! Until it becomes clear that he isn't the only one who needs saving. And perhaps he's the key to showing this beautiful breath of fresh air that love can be found in the most unexpected of places!