In Wicked Torture (Stark World #3) by J. Kenner, Widower Noah Carter is a successful tech geek tasked with getting Damien Stark's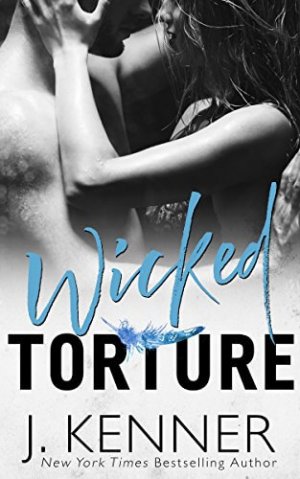 latest business venture off the ground and running in Austin. Knee deep in their first big project, he uses work to fill in the gaping holes in his life since losing his wife and daughter. Guilt and grief over their kidnapping still racks Noah but he knows that after almost a decade it's time to try living again. And just when he makes that decision, his former girlfriend Kiki Porter suddenly reappears, throwing his heart into turmoil. He regrets the way he had to end things with her years ago and wonders if this is the universe giving him one more chance to get it right. But before they can ride off into the sunset, Noah will be tested, forcing him to choose between Kiki and a different ending he never thought he'd get a chance at again.
"Christ, Kiki, do you think I don't know how much I hurt you? How much I owe you?… I do," he continued. "I owe you more than I can ever pay, but at the very least I owe you the courtesy of not dragging you in and disrupting your life all over again."
Kiki is proud of herself for finally getting back onstage and preforming again–as well as writing songs once more–after the heartbreak she went through when Noah broke things off between them. Going back to school and getting her MBA helped give her something to focus on but she's missed singing. But wouldn't you know it that the first time Kiki hops up on a stage in years is the night she spots Noah in the crowd. Angry, confused, and still unfortunately attracted to him, she lets him know exactly how she felt when he left. And she begins to feel better until she finds out that he's the president of the company she'll be running a marketing campaign for and realizes that they're going to have to work long hours together side by side for weeks. Considering the chemistry they still have, Kiki's not sure it's the best plan for her career or her heart.
"I never stopped loving you," he says. "I know I hurt you–and, God, I wish I could take it back–but I never stopped loving you."
"Don't." I look at him through eyes damp with tears. "I don't want to relive the past. I survived it. I got through it. But I sure as hell don't want to go back to it."
Wicked Torture was a sizzling hot second chance romance that put this reader girl through the wringer emotionally. And I honestly would expect nothing less of J. Kenner's powerful writing.
'It was his eyes that stole my heart. The connection that sparked in them the moment our gazes locked. The silent greeting of one soul to another when the only thing that needs to be said is, I know you.'
I love a really intensely passionate second chance romance and J. Kenner did a fantastic job here with Noah and Kiki's stormy relationship. They truly were two people who had the worst timing and luck between them. Seriously…I felt so bad for them as there was such obvious love and a genuine connection between them but things just never seemed to work out right. And I think it's something that most readers will understand. That sense of having to do what's right, even if it's not what your heart wishes. That was exactly what poor Noah was tangled up in the first time he and Kiki tried to make a go of a relationship. Sadly it wasn't any less tumultuous the second time around, but they knew what they would be missing out on so I think that made them both fight harder to make it work.
Noah's loss of his wife and daughter has been talked about a bit in previous novels, so if you've read either the S.I.N. series or other books in this Stark World series, then you're likely familiar with it. Getting the intimate details of what happened was heartbreaking and I can see why Noah was so torn up with guilt and grief. I won't give the specifics, but he was not to blame for what happened–although being such a standup guy, he took everything to heart. I did feel like Noah probably should have clued Kiki in on his emotional turmoil the first time they were together, to have talked things through to see if they could have remained together. He had a habit of trying to make decisions for those he cared about in an effort to try to help them avoid pain but it didn't always work.
Kiki on the other hand was usually such a strong woman that it surprised me she didn't fight harder when things went south between them the first time. And I think that's something she regretted as she realized it when they began working together and falling for each other again. Now I do feel like I have to mention that when Kiki finally saw Noah after about a decade apart, given how angry she was about how he broke things off, she slapped him. I know some readers have an issue with that behavior so I figured I'd mention it. It wasn't a deal breaker for me as I understood how upset she was and because she was so shocked herself at what she did, but it it did give me pause for a moment. Other than that, Kiki ended up being a solid character who learned a lot about herself and what she wanted in her life over the course of the book.
With multiple fun cameos from the Stark cast of characters and a well-deserved second chance at romance for two worthy people, Wicked Torture was an absolute pleasure to read. Definitely recommended.

Book Info:

Publication: Published November 14th 2017 | Martini & Olive | Stark World #3
From J. Kenner, the New York Times and No. 1 international bestselling author of the million-copy selling Stark series , comes Wicked Torture, a new novel set in the seductive Stark world . For fans of Fifty Shades of Grey , Sylvia Day, Meredith Wild and Jodi Ellen Malpas.
Outwardly, Noah Carter is riding high as the tech world's hottest new genius. Inside, he's still reeling from the abduction of his wife and baby daughter eight years ago, and then the devastating discovery of his child's body. For years, he kept up hope that his wife was alive, but now that she's been declared legally dead, he's thrown himself even more deeply into his work, cutting himself off from emotional ties because they just hurt too damn much.
Then he meets Kiki Porter, an eternal optimist with a killer work ethic and dreams of fronting a band. And everything changes. Even though he tries his damnedest to fight it…
Sexually, they are combustible together. But their true fire is emotional, though it is a slow to burn. But once it lights, it is all consuming. The relationship grows emotionally, the sex is hot, things are good.
But just when it's looking like they might have a real future together, the past comes back to haunt them. And Noah's going to have to decide what he's willing to give up for love…
Spellbinding romance. Electrifying passion. Why not indulge in J. Kenner…