His New Amish Family: Patricia Davids is one of those authors, whose books I cannot ever get enough of! And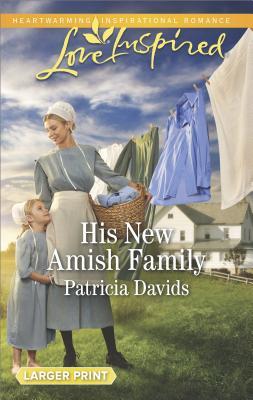 the families and characters in the Amish Bachelors' series feel like old friends.
In "His New Amish Family", Clara and her young children are grateful when her uncle's will names Clara as inheriting his farm. She very much needs the farm as a home, and a way to earn an income considering her daughter has a serious health condition. Yet her English (non Amish) cousin claims he inherited the farm instead. Along comes Paul, an auctioneer, whom Clara's cousin has hired to sell all the contents of the farm house. Paul has an uneasy feeling about his new client from the start, and is touched by Clara's situation yet nervous about becoming involved or being in the middle between the cousins.
However, his client makes him more and more uncomfortable, especially given his nasty and uncaring attitude towards Clara and her children. Paul seeks the advice of his Bowman relatives in how to handle the situation. This results in the whole family taking on Clara's cause and helping her children, especially when her daughter needs hospitalization.
Throughout, Paul and Clara start to realize they have strong feelings for one another but consistently fight these feelings. To find out if they will come together, and to learn how her daughter recovers, I strongly recommend fellow readers pick up or download "His New Amish Family". I promise you will enjoy it!

Book Info:

Publication: June 19, 2018 | Love Inspired | The Amish Bachelors #6
Her home–and heart–on the line…in the heartwarming conclusion to The Amish Bachelors series. Widow Clara Fisher's late uncle promised his farm to her–but she can't find the documents to prove it! Desperate to stop her English cousin from selling it, she seeks the help of auctioneer Paul Bowman. Paul's always been a wandering spirit, but will sweet, stubborn Clara and her children suddenly fill his empty life with family and love?