His Secret Starlight Baby by Michelle Major is the fourth book in her Welcome to Starlight series.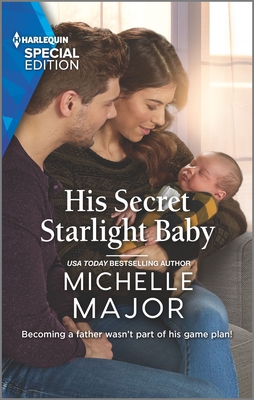 This book is a great addition to this series.
After the death of her grandmother Cory Hall had nowhere to live, no money and nowhere to go. It's just her and her beloved six-month-old son Ben. Cory packs her few possessions, straps Ben in her car seat, hops in her grandmother's old Buick on their way to Starlight, Washington for Ben to meet his father, the father who doesn't know he's a father. Because Cory never had the courage to tell him. Ex NFL football player Jordan Schaeffer is in for the surprise of his life! Here's hoping this turns out better than Cory is anticipating. Cory's one-night-stand with her friend Jordan threw her off so she left the morning after without discussing what had happened. She had to think. She didn't know that her jerk of an ex Kade Barrington announced to the team at that time that they were back together again. She couldn't be with Kade. She needed to be her own self and that wasn't happening with Kade. Will Jordan accept Ben and want to be part of his life? That's the big question that will be answered when they get to Starlight.
Jordan Schaeffer's injury during the playoff game was a career-ender. It was time anyway – time to move on from football. His love of the game had evaporated. His move to Starlight and purchasing the Trophy Room bar was just what the doctor ordered. When he was locking the bar door after closing that night he didn't realize his life was about to change dramatically. How did Cory Hall end up waiting for him there and what's this about a baby? When he first saw Ben he knew this was his son. He is determined to have him in his life. Hopefully his mother is also part of that deal.
Once again this author shares some wonderful characters and the small town vibe of Starlight. Both Cory and Jordan shared childhoods that were difficult. This hampered their relationship at first but it was great to see them overcome their past and insecurities as they made their troubled way to a delightful HEA. I like this author's voice and I look forward to more stories written by Michelle Major.
Book Info:

Publication: February 23rd 2021 | Harlequin Special Edition | Welcome to Starlight, 4
Becoming a father wasn't part of his game plan in USA TODAY bestselling author Michelle Major's latest book in her Welcome to Starlight miniseries!
Coparenting this baby
Is going to take teamwork
Former professional football player Jordan Schaeffer's game plan was simple: retire from football and set up a quiet life in Starlight. But when Cory Hall arrives with their infant son, Jordan not only gets a surprise but has to devise a new life strategy. And Cory finds herself agreeing to be his fake fiancée until they work out a coparenting plan. Jordan may have rewritten the dating playbook…but will it be enough to bring this team together?
From Harlequin Special Edition: Believe in love. Overcome obstacles. Find happiness.
Welcome to Starlight
Book 1: The Best Intentions
Book 2: The Last Man She Expected
Book 3: His Last-Chance Christmas Family
Book 4: His Secret Starlight Baby