His Shy Cinderella by Kate Hardy: A modern day Romeo and Juliet? Or just a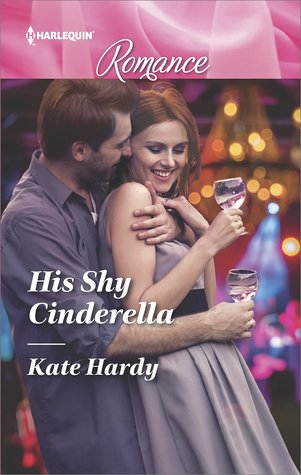 case of a family feud that just doesn't want to give?
Angel McKenzie wasn't sure what to do anymore. She was praying that her last hope would come true and she wouldn't fail. She couldn't fail. What she wasn't counting on though was her family's biggest rival. She was counting on him, his offers or more importantly her chemistry with him .
Brandon Stone was just trying to prove himself. That was all he wanted to do, make up for what he believed was his stupid bravado that he thinks got his brother killed. He wasn't sure how but he was going to do it. Would it be by taking out the family rival? Was she a rival? Or was she a woman?
When these two get together neither one really trusts the other one but the chemistry is something that they can't seem to ignore. Will their passion be enough to put out the family fires? Or will everything go down in flames?
This was a hard read. The plot line is good, but the read is forced. There are details missing that should have been caught in an editing process. The charaters have such promise that it is hard to not see them live up to their potential.
Overall though there is such promise in this story it's just hard that it doesn't live up to what it could be.
Book Info:

Publication: May 9th 2017 | Harlequin Romance |
The real woman behind his rival…
Racing driver Brandon Stone is intent on proving he has what it takes to run his family business. First stop: procuring rival race car designers the McKenzies. But shy Angel McKenzie has no intention of selling up!
Angel has avoided the limelight most of her life. But with her family business under threat, she'll do anything it takes to save it. Working closely with Brandon ignites feelings she never knew existed–he may be the last person she should ever date, but her heart is telling her to break the rules!