A Lady's Code of Misconduct: Meredith Duran is one of my favorite authors,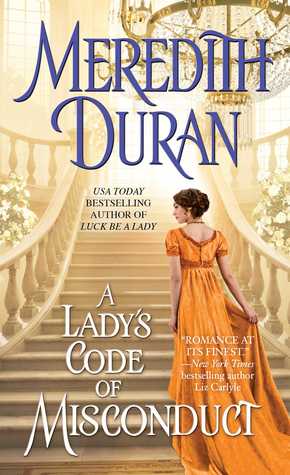 because her stories are thought-provoking, complex and deeply romantic, and her characters are always finely layered and captivating. A Lady's Code of Misconduct has all this and more, and you will be enthralled by this emotional story and its hero – Crispin Burke.
Crispin is a jerk, and there is just no other way to describe him. He has lofty political ambitions – he wants to be the Prime Minister – and he is singularly ruthless in his quest to achieve his goals. He masterfully manipulates people for political gain and has earned a reputation for being cold-blooded. Opponents fear him and know to stay out of his way or get trampled in his rise to power, and one of these bystanders caught in his crosshairs is Jane Mason.
Jane's uncle and guardian is one of Crispin's closest and most unsavory political allies. He's controlled Jane's large inheritance since she was orphaned, and he has no desire to let her money go. He's kept her isolated and under his thumb treating her with disdain. Now he wants her to wed his son in order to permanently claim her fortune, but Jane has had enough and seeks a way out. She must marry to gain control of her money; therefore, she sets out to run away and enter a marriage of convenience but her plans are thwarted. Unfortunately, her failed plans leave her indebted to Crispin, and he seizes the opportunity for his own gain.
Crispin asks Jane to spy on her uncle and bring him information in exchange for his assistance in securing a husband and freedom. Jane fulfills her promise and is waiting for Crispin to deliver on his when he is brutally attacked and seriously injured. He's in a comma and no one thinks he will survive, but he miraculously does. When he does he wake up, he has no memories of the last few years and he has a wife – Jane.
I do not usually enjoy an amnesia plot, but Ms. Duran crafted a smart and remarkable take on this often overused trope. It is fascinating to see how a man like Crispin will react when his slate is wiped clean and how his relationship with Jane will play out. Politics dominate much of this story and Jane and Crispin's relationship, and the political issues explored are interesting and adds more depth to A Lady's Code of Misconduct. This is a historical romance that offers an original story, fascinating characters and an emotional romance, and another testament to Ms. Duran's exceptional talent.

Book Info:

Publication: 2/28/17 | Pocket Books | Rules for the Reckless #5
A DEAL WITH THE DEVIL…
Trapped in the countryside, facing an unwanted marriage and the theft of her fortune, Jane Mason is done behaving nicely. To win her freedom, she'll strike a deal with the most dangerous man she knows—a rising star in politics, whose dark good looks mask an even darker heart.
…NEVER GOES TO PLAN.
The bitter past has taught Crispin Burke to trust no one. He'll gladly help a lovely young heiress, provided she pays a price. Yet when a single mistake shatters his life, it is Jane who holds the key to his salvation. And in a world that no longer makes sense, Crispin slowly realizes that she may be the only thing worth fighting for…