Holding Out for a Hero by Pamela Tracy features a young woman, Shelley, who inspires admiration and empathy for the fact that she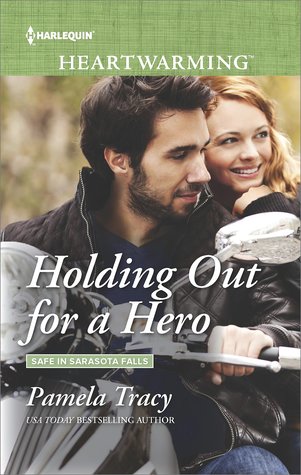 is a single mother raising her stepson and expecting the birth of her first newborn at any time. She is on the receiving end of scorn and anger by many in her small town of Sarasota Falls, due to her ex husband being a con artist and scamming many of the towns people out of their life savings.
When a childhood friend, Oscar, returns to town, seemingly as a police officer, Shelley's son Ryan immediately likes him and his large dog. Oscar, however, is actually in town undercover to monitor and watch over Shelley in the event her ex husband attempts to contact or harm her or Ryan or the baby.
When Shelley discovers a murder has taken place right on her street, she receives constant threats by the murderer to not tell the police. Because the murderer is someone who knows her all too well, Shelley becomes extremely frightened. Simultaneously, Oscar tries to protect Shelley from her ex husband, while trying to find out his whereabouts so he can be arrested. A huge question for Oscar becomes whether he can be objective due to his growing feelings for Shelley and his longtime friendship with the murder victim.
This story features an enjoyable combination of romance and suspense. I look forward to reading the next book in the series, and i would most definitely recommend "Holding out for a Hero.
Book Info:

Publication: April 4, 2017 | Harlequin Heartwarming | Safe in Sarasota Falls #1
Every instinct Oscar Guzman honed in the military and the police academy is telling him that Shelley Brubaker is hiding something. It's not just a secret; he's sure of that. It's something darker, more dangerous. And the only way to protect her is to convince her to open up to him. But Shelley isn't about to let him get that close. Oscar knows that with her con-man ex still at large and probably threatening her, Shelley is suspicious of everyone. But he also knows that at eight months pregnant with a toddler to raise, she's in no shape to fight this battle alone. And he's not about to let her!