Dancing in the Rain by Kelly Jamieson: Drew Sellers is struggling. He spends more time sleeping in and in bars as he avoids dealing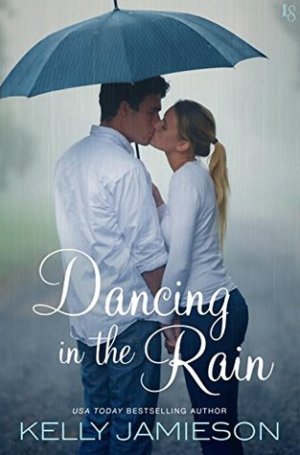 with his present and future. Drew never planned for a life after hockey, especially one cut short by a knee injury that forced an early retirement. Without hockey providing that structure to his life and after a divorce, he's lost.
Peyton Watt is also struggling. She has a high-powered career she loves in reputation management, but she misses her sister and niece who live in Chicago. She's smart, driven, passionate, and loyal. When her sister Sara needs her, Peyton makes the arrangements to be by her side.
Drew is definitely at a low point in his life, so he never expected a woman from his past to now approach him about fathering a child. Drew is cautious about getting involved 12 years later, and it's clear that both Sara and Peyton are just as cautious. It's also pretty clear that Peyton has her own reservations since Drew has no job or any plans.
"Hey, I'm not looking for pity. I've got enough of that for myself."
"Yes, I can see you're riding the pity train. But the train has just arrived at the intersection of We All Have Problems and Suck It Up Buttercup."
Peyton definitely challenges Drew and his outlook. They end up getting pretty close as Drew gets to know his daughter and becomes more immersed in the world of the Watt women. Both Drew and Peyton feel the attraction, but they also hesitate to act on it in the circumstances.
"Your point has merit."
"Right? I'm finally a grown-up. A dad. I get to decide these things."
She lifted her eyebrows at him.
He smiled slowly. "Okay, we get to decide these things."
Dancing in the Rain is an emotional and heartwarming story of new beginnings. Kelly Jamieson created flawed, complicated characters in a difficult situation. Ms. Jamieson created a good balance between character development, romance, and family. Fans of Annie Kelly and L.A. Fiore will enjoy Dancing in the Rain.
Book Info:

Publication: April 11th 2017 | Loveswept |
A retired athlete meets the daughter he never knew—along with the woman who reignites his passions—in this powerful standalone romance from the bestselling author of Hot Shot and the Heller Brothers series.
Drew Sellers is drowning in broken dreams and empty beer bottles. Hockey was his world, until a bum knee reduced him from superstar to has-been. Then he learns that, thanks to a one-night-stand back in college, he's the father of a preteen girl with major issues. Her protective aunt sees right through Drew's BS, but "Auntie P" is no stereotypical spinster. With her slender curves, toned legs, and luscious lips, she has Drew indulging in fantasies that aren't exactly family-friendly.
At another point in her life, Peyton Watt would have been all over a cocky alpha male who pushes all her buttons like Drew. Right now, though, she needs to focus on taking care of her niece during her sister's health crisis, all while holding down a job and keeping her own head above water. Besides, Drew's clearly no father of the year. He's unemployed. He drinks too much. And he's living in the past. But after Peyton gets a glimpse of the genuine man behind his tough-guy façade, she's hooked—and there's no going back.
"Kelly Jamieson is my go-to author for hockey romance."—USA Today bestselling author Jami Davenport
The Aces Hockey series: MAJOR MISCONDUCT | OFF LIMITS | ICING | TOP SHELF | BACK CHECK
The Bayard Hockey series: SHUT OUT | CROSS CHECK (Coming Soon!)
And don't miss her Last Shot series: BODY SHOT | HOT SHOT
Includes an excerpt from another Loveswept title.